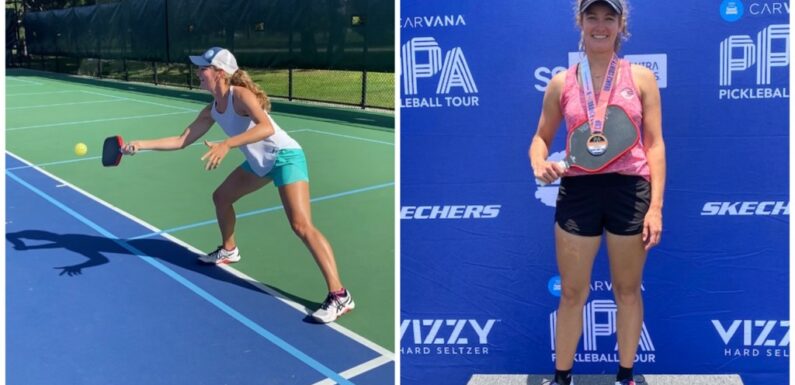 Pickleball has become a contentious topic in Colorado, where some towns have banned players from using tennis courts and even prohibited the sport at certain parks altogether due to noise.
One way to solve this pickle of a problem is to build more indoor facilities that cater to the sport, said Denver resident Tiffany Ash. That's why she's competing on a new reality TV show called "Pickleball Paddle Battle" for a chance to open her own business in Denver.
The show, which is hosted by former "Bachelor" contestant Clayton Echard but doesn't yet have a rundate or a network to air it, pits 16 pickleball players from across the country against one another in matches, drills and even dance competitions, if the behind-the-scenes content posted on Instagram is to be believed.
In the end, two people will win a franchise deal from Pickleball Kingdom in Arizona, which is hosting and sponsoring the competition. Two players will also earn one-year sponsorships to compete against the pros in tournaments.
Either prize would be a dream come true for Ash – and she'll need Coloradans' help to get there.
While the pro sponsorships will be awarded to players based on their performance, the folks who win the franchise will be determined by audience votes. (The show was filmed in mid-September.)
Pickleball, which is often described as a hybrid of tennis and ping pong, has exploded in popularity since the COVID-19 pandemic to become the fastest-growing sport in the United States, according to a report by the Sports & Fitness Industry Association.
Ash began playing pickleball five years ago when she moved to Colorado and was "addicted right away." After playing division one tennis at Loyola University Maryland, Ash was a natural at the sport, but fell in love with the social nature of play. She found a community on the court – and a romantic connection, too.
"I met my boyfriend playing pickleball and we play tournaments together," Ash said. "Dating before him was hard because no one understood my addiction."
As a third-grade teacher at Marrama Elementary in Denver who aspires to play professional pickleball, Ash follows other pros on social media. She decided to apply after seeing Riley Newman, one of the country's top-ranked players, promote the show on Instagram.
Ash filled out a Google Form and answered application questions via video. By the time Pickleball Kingdom called for an interview, she learned she had already made the cut.
Ash spent a week in mid-September at Pickleball Kingdom in Arizona filming after receiving permission from her principal to miss class.
"It's a once-in-a-lifetime thing," she said. "I can do a filming for a week, I think I can handle that."
Ash's home court used to be at Congress Park until Denver Parks and Recreation decided to close courts there and ditch their plans to build ones due to noise violations. She now plays regularly at MLK Park, but contends locals need more pickleball-friendly places where they can bring their racquets.
"I know there's a conflict between tennis players and pickleball players because we're sharing the courts now," she said. "If we had more pickleball courts then we wouldn't have that problem."
Follow Ash on Instagram at @pickletif and the show at @pickleballpaddlebattle for updates.
Subscribe to our weekly newsletter, The Adventurist, to get outdoors news sent straight to your inbox.
Source: Read Full Article