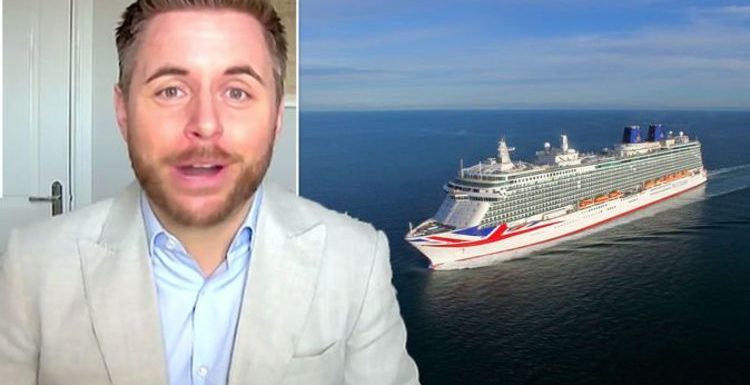 P&O boss outlines vaccination rules for travellers
When you subscribe we will use the information you provide to send you these newsletters.Sometimes they'll include recommendations for other related newsletters or services we offer.Our Privacy Notice explains more about how we use your data, and your rights.You can unsubscribe at any time.
Cruise holidays have been on hold for some time in the UK, but there is hope for Britons who are eager to get away on their next ocean exploration. While international travel remains uncertain, P&O Cruises have turned their attention to sailing UK coastline itineraries from Southampton from June 27.
However, President of P&O Paul Ludlow has predicted sailings further afield could resume in the Autumn.
Speaking on BBC Breakfast this morning, the cruise boss said: "Initially P&O Cruises is launching UK coastal waters sailings from Southampton and we are going to run those through until September and then from the autumn we hope that we are going to pick up International cruises once again once the world begins to open up more widely.
"At the moment we are just focussing on those UK sailing."
He remains confident passengers will return to sailing, despite the cruise industry being thrown into the eye of the storm when the COVID-19 pandemic first took its hold.
This is largely thanks to the ongoing vaccination effort, as well as increased testing facilities.
Mr Ludlow explains this is why the firm has made the decision to only welcome back holidaymakers who have received their Covid jab.
"We talk to our guests regularly and they are telling us overwhelmingly so this is what they want and for us, this is a decision for this summer though until September," he said.
"I think as the country progresses through the vaccination programme and more people are vaccinated we will revisit this policy for the autumn onwards.
DON'T MISS
Spain holidays: Tenerife, Gran Canaria & Fuerteventura under new rules [INSIGHT]
Vaccine passport: EU confirms 'digital green pass' [UPDATE]
Greece holidays: How the nation will welcome back UK tourists [COMMENT]
"This is initially in response to what guests want this year."
Sadly, this means all passengers of any age group who have not been inoculated, including young people who are not eligible for the vaccine yet, will be unable to sail in the summer.
"At the moment we are stipulating that all guests of all ages must be vaccinated to come onboard," he clarified.
"Our policies and procedures have evolved, the vaccination policy we are discussing today is an example of that," Mr Ludlow continued.
"Testing, of course, keeps everyone healthy and well.
"I think we have all moved through that now and our guests are telling us they can't wait to come back and we can't wait to welcome them on."
Vaccines in the UK are being issued in order of priority depending on age and underlying health issues or certain workplace environments, such as nurses and doctors.
According to the latest statistics from the NHS, in the week ending March 7 an additional 1,783,136 people were reported to have received an NHS vaccination for COVID-19 in England.
This took the total number of people vaccinated with at least one dose as of March 7 to 18,962,627.
Of those vaccinated, 796,574 people have received a second dose, taking the total number of vaccinations given to 19,759,201.
P&O Cruises guests will not have to show evidence of their vaccine upon booking.
However, Mr Ludlow clarified they will need to show proof when they travel.
"When people book they don't need to prove their vaccination but when they travel they will need to prove they are vaccinated," he explained.
"This is moving at pace it is reported this morning, so we anticipate by June 27, which is our first sailing, there will be a Government accredited scheme to prove your vaccination but at the very least then a letter from your GP will suffice."
Source: Read Full Article