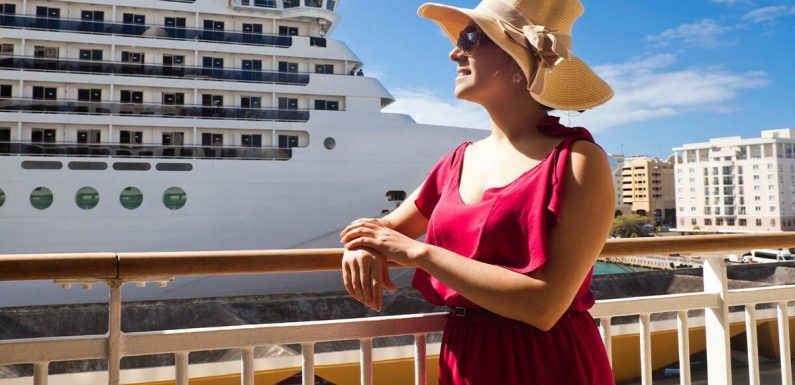 We use your sign-up to provide content in ways you've consented to and to improve our understanding of you. This may include adverts from us and 3rd parties based on our understanding. You can unsubscribe at any time. More info
A cruise guest has taken to the popular travel forum Cruise Critic to share their top takeaways from their first sail. While they thought they were prepared for their holiday on the water, the passenger revealed that there are several things they wish they had known before boarding the ship – including what to pack.
The first-time cruiser from Bismark, North Dakota explained that there were a few things they wish they had left at home for their trip, and just as many things they wished they had packed for their holiday.
In a recent post on the Cruise Critic forum, a user who goes by the name pookel shared the things they "do differently next time". At the top of their list was something many holidaymakers can relate to – bring fewer shoes.
The cruise guest said: "I brought two pairs of sandals, two pairs of sneakers, and water shoes. Could have done with one pair of sandals and one pair of trainers and water shoes."
But while the American traveller noted that they had an excess of footwear, they also wished they had packed more socks and T-shirts for their trip to the sunny Bahamas.
They said: "Normally I just slip on sneakers over bare feet unless I'm doing a serious day of walking. Well…. every day on the cruise was a serious day of walking. I should have brought eight or nine pairs, not four."
When it comes to the ship itself, the inexperienced cruiser explained that there are a few things you can afford to "miss out" on when it comes to booking your room and route.
One of which is to not get a balcony cabin. While it is a nice sentiment, the holidaymaker said that it's unlikely that you will use it enough to get your money's worth – particularly when you can get much cheaper rooms without a balcony.
Pookel added that drinks packages are another area you can afford to skimp on in some cases. In the post, they wrote that next time they would consider not getting the drink package, especially if they're on a line other than Norwegian where it's more expensive.
DON'T MISS:
Cruise guest issues warning about 'awful' mistake [INSIGHT]
Guests moan about 'snotty' passenger that ruined their trip [REVEAL]
Cruise guests complain about passengers' 'rude' behaviour [TIPS]
They added: "I did enjoy it, but I don't drink much soda and don't have the alcohol tolerance I used to, so I could skip it and drink less to save money.
"I also learned I absolutely cannot do port-intensive cruises. We had one sea day, then Bermuda, then a sea day, then the Bahamas, then Great Stirrup Cay, then Port Canaveral, and now two more sea days before we're back in New York City.
"And I'm absolutely wiped out just from the three back-to-back port days. I'm sure this differs for everyone, but pay attention to how many port days vs sea days you have, and your energy level."
When packing for your first cruise, the American traveller noted that you should pack items for your cabin in addition to your own clothing and toiletries.
The Cruise Critic user explained that one thing they wished they had packed more off was magnetic hooks to create extra storage in their room. While they had taken a pack of 12 and used all of them, they noted that they "could have used more".
They added: "Bring a bigger magnetic whiteboard for the door. We brought a little one and found people from all over randomly left messages for us, which was a lot of fun!"
Other luggage items recommended by the forum user included battery packs for your phone and a small crossbody bag for money, jewellery and loose change.
These were items they packed and "used all the time" on their first cruise trip.
According to the first-time cruise goer, they had "no regrets" on packing "absolutely every kind of medication and first aid supplies", including useful household items.
On their packing list, they included items like rubber bands, paper clips, pens and paper on top of standard medications like painkillers and plasters.
They wrote: "I used most of them and was very grateful to have it all. I made a small emergency kit and packed it absolutely full of useful little things, and it was so helpful."
One last piece of advice the holidaymakers shared on the forum was for new cruise guests to "make a budget ahead of time and track spending". They explained that they didn't do it for their first trip and noticed they had "wasted money" at times when they could have "been more frugal."
Source: Read Full Article