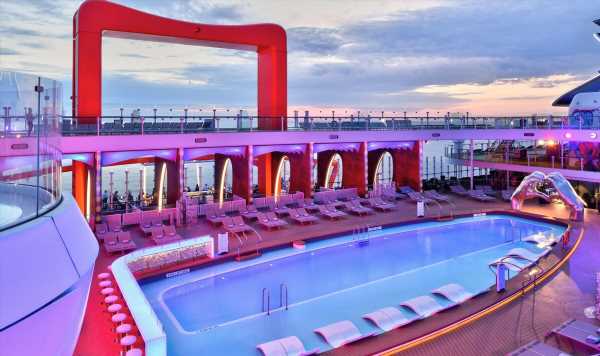 We use your sign-up to provide content in ways you've consented to and to improve our understanding of you. This may include adverts from us and 3rd parties based on our understanding. You can unsubscribe at any time. More info
Celebrity Apex made its covid-delayed debut in June 2021, more than a year after it was launched, and is the second of the fleet's Edge Class ships designed by British architect Tom Wright, responsible for the Burj Al Arab luxury hotel in Dubai.
It is almost exactly the same layout as 2018's Celebrity Edge and 2022's Celebrity Beyond, which was also delayed by covid restrictions, with Celebrity Ascent scheduled to arrive in December 2023 and a fifth Edge Class ship on order.
All are known for their boutique hotel-style interiors and high-quality restaurants – particularly their speciality dining – and for a relaxed atmosphere with formal nights replaced by Evening Chic on sea days.
Celebrity Cruises has 16 ships (17 from December 2023), including three small expedition ships in the Galapagos Islands, four Millennium Class ships introduced from 2000 to 2002 that take just over 2,000 passengers, five Solstice Class ships introduced between 2008 and 2012 for nearly 3,000 passengers and the Edge Class ships that take around 3,000 passengers – slightly more on the newer ships.
Covid protocols
Proof of vaccination is required to fly from the UK to the USA and to Europe but you no longer need to prove your vaccination status to board a Celebrity Cruises ship. Vaccination and pre-departure testing is still mandatory on certain sailings, though, in particular Galapagos, Australia, New Zealand, and itineraries that visit Brazil, Chile, Colombia and the Caribbean's Turks & Caicos.
What's it like onboard?
Celebrity Apex is very relaxed and although most of the passengers are not quite as cool as the publicity pictures would have you believe, that's actually a good thing: it's easy to fit in with other guests or just stay in your own private bubble if that's what you prefer.
It is certainly an elegant ship, though, particularly decks four and five where most of the restaurants can be found and there is a good mix of bars – from The Craft Social sports bar to The Sunset Bar outside at the back of the ship and everything in between.
In all there are 29 restaurants, bars and lounges that somehow manage to have their own distinct atmosphere – including background music – although if you want to enjoy the sound of silence you'll be spending most of your time in your cabin.
The WOW factor
There are quite a few but my favourites – particularly for a winter-sun cruise in the Caribbean – include the deck 15 Rooftop Garden, where the plants are real and the clever design means you're largely out of the wind; the Sunset Bar at the back of the ship next to the garden, and the Eden Bar – thanks largely to the three deck-high windows overlooking the sea with pretty seating areas for sunset gazing while drinking a cheeky margarita.
Special mention should also go to the theatre, an amazing semi-circular space where there are no bad seats. It has a state-of-the-art 20ft LED screen curving around the stage to provide special effects that most land-based theatres can only dream of, taking you through space in its Crystallize show, through the seasons in Tree Of Life and back to 1969's Woodstock festival and other legendary music events in Rockumentary.
Staterooms
Celebrity Cruises reinvented the balcony stateroom with Celebrity Edge and the same design is the norm for Celebrity Apex outside cabins, too. The balcony space is within the cabin, with two wicker-style chairs and a small table create a light-filled sitting space and a floor-to-ceiling window that can be lowered to waist height at the flick of a switch to let in fresh air.
Some people love it, others regret not being able to stand outside in the fresh air – especially as you can only see what is directly ahead of you. On the plus side, you get a slightly bigger cabin.
There are also single cabins with these Infinite Balconies but Sunset Veranda staterooms do have outside balconies – although there aren't many of them.
All suites have outdoor balconies and all have use of The Retreat – a lounge and sundeck with small pool – and Luminae, a restaurant exclusive to suite guests. The Retreat has Kelly Hoppen's trademark cream, white and greige colour palette that has an instantly calming effect – and it's much quieter than other areas.
In all there are six suite categories, from 146 entry-level Sky suites up to duplexes and two whopping Iconic Suites on top of the Bridge that are apartments in all but name.
Other options include AquaClass staterooms with exclusive access to Blu restaurant and free use of the thermal suite plus free fitness lessons. There are several sizes of outside staterooms, while inside staterooms are a good option for people happy to spend the day off-ship or in public spaces – and on winter sun cruises it's much more fun out on deck than in your cabin.
There are some accessible cabins for wheelchair users, too, and all cabins have well-equipped shower rooms, fridges, large wall TVs with free entertainment and supremely comfortable large beds.
Dining
The grand dining room is increasingly a thing of the past on new cruise ships, which are replacing chandelier-festooned main restaurants with a choice of more intimate and individually themed complimentary eating places – and Celebrity Apex is no different.
Italian-themed restaurant Tuscan and French-themed Normandie are at the back of the ship on deck three with Mediterranean-themed Cyprus and American-themed Cosmopolitan above them on deck four. The twist is that they all have the same menu with a few dishes to fit their theme.
Other complimentary restaurants include Oceanview Café on the pool deck, a roomy light-filled buffet with plenty of seating and a small outdoor terrace at the back of the ship which is great for al-fresco breakfast and lunch.
The Solarium, a pool area with a permanent glass domed roof, also has a small complimentary café for quick bites at breakfast and lunch, with a good free coffee machine where you can get espresso as well as American coffee. Barista-style coffee is available in Oceanview Café and deck four's Café al Bacio but you have to pay for it unless you have a drinks package.
There's also the complimentary Mast Grill, near the main pool on deck 14, for burgers and chips, a complimentary Pizza counter within Oceanview Café that's open from noon to 1am and its free ice cream and frozen yogurt counter is open from noon until 10pm.
You can also have breakfast and lunch for free at Eden Café, where the three-deck window lets in plenty of light, and waiter-served breakfast and lunch at Cosmopolitan.
As for the speciality restaurants, these cost from $45 to $65 per person for dinner but they are all pretty special. Eden Restaurant offers slightly experimental food, Fine Cut Steakhouse is for meat-lovers, Raw on Five for shell fish fans, Rooftop Garden Grill serves American food and Le Petit Chef at Le Grand Bistro has an animated film projected onto your table and is great for families.
Lifestyle
There's never a dull moment on this ship. If you're not off exploring on land there's a full itinerary that you can dip in and out of, starting with a free morning stretch class in the gym's studio at 7am, free dance classes, quizzes, volley-ball and other popular competitions around the pool plus live music.
Although the well-equipped sea-view gym is free to use there are also paid-for classes, such as slow flow yoga and Ryde indoor cycling with less strenuous paid-for activities elsewhere on the ship such as tasting sessions for wine, Martini and even Jack Daniel's whiskey.
The Kelly Hoppen-designed spa, called SEA, has a good range of paid-for beauty treatments and massages (watch out for special offers on the first day plus port days) and there's also a gorgeous paid-for SEA Thermal Suite with a hammam, steam mist room, crystalarium, salt therapy room and more. As passes are limited you need to book early.
Camp At Sea is the free children's club on deck three, with a teenagers'room on deck two. Both have good entertainment programmes but the ship has few children onboard outside school holidays and it would be fair to say that couples and adult groups are more of a focus for Celebrity Cruises.
Excursions are available and while these are not cheap they are worth considering, particularly on Caribbean islands where there is little to do or sea in the port town.
On the cruise I was on, for instance, there were just a few British colonial buildings to see at Basseterre, on St Kitts & Nevis, and at Tortola, in the British Virgin Islands, but ship excursions would get you safely to the rainforest, beaches or tours – and, crucially, back in time for the ship's departure.
There are always exceptions, though, and you can easily explore San Juan on Puerto Rico by yourself, from where ships dock in the old town.
Entertainment
In the evening you might want to listen to a band and have a drink before dinner – the Grand Plaza's Martini Bar in the middle of deck three always has something going on – and Magic Carpet is fun. This is the trendiest bar on the ship – a glass box platform that hangs from the side of the ship and can be lowered up and down the decks.
At The Sunset Bar you can watch the ship's wake from the back of the ship or gaze out to sea through the giant windows of the Eden Bar, which has a botanical feel.
If none of these appeal there are others to choose from and after dinner the options include more live music, dancing to DJ music, silent discos – where you dance to music that only you can hear through headphones – and the shows in the superb theatre or The Club venue.
When I was on board there were three big productions from the ship's energetic singers and dancers in The Theatre. Crystallize uses its fabulous technology to the full, with the LED screen projecting us into space while the star of the show swirls around above the stage on a trapeze; Rockumentary is a raunchy run through of rock and pop music of the 20th century while the LED screen provides a magical ever-changing seasonal backdrop to Tree of Life.
Caravan, an edgy circus-style show, was staged in The Club, with a ringmaster in charge of some superbly strong acrobats, while over the week-long cruise there were individual performers including comedian Jim Colliton, magician Joshua Jordan, flamboyant pianist Roy Tan and powerhouse singers Divas 3. For night owls there's more dancing to DJ music and the Casino.
Fact box
Celebrity Apex will be in the Caribbean until late April when it crosses the Atlantic to Europe, returning to Florida for winter sun Caribbean cruises from Fort Lauderdale.
A 7-night return trip from Fort Lauderdale calling at San Juan, Puerto Rico; Philipsburg, St Maarten; Charlotte Amalie, St Thomas and Puerto Plata, Dominican Republic, departing January 27, 2024, from £1,137 per person, two sharing, for a sea-view cabin (celebritycruises.com/gb).
Source: Read Full Article