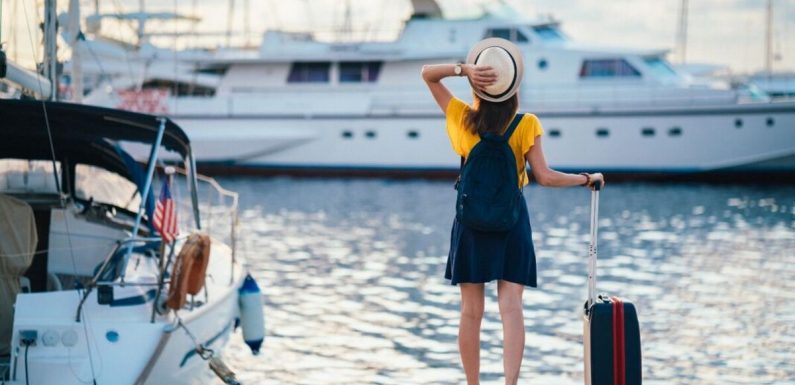 Yasmin Pekel, owner and CEO of Blue Cruise, told Express.co.uk everything new cruise guests will need to pack. She said there are a few items guests often forget.
Power adapters
Yasmin said: "One of the most forgotten and most important items to remember when cruising is a power adapter.
"While the cruise line is likely to have a standard plug for your electronics, you never know when you'll need to plug your phone in at a coffee shop onshore.
"Purchasing one of the all-in-one, universal adapters means you can be prepared for your trip wherever you go.
"Keeping it in your suitcase for safekeeping is a great way to make sure you don't forget it on your next holiday."
Guests should check what kind of power outlet their cruise ship has, as this may vary across lines.
Lines based out of the USA may use American plug outlets while other ships will have European outlets.
Swimwear
Yasmin told Express.co.uk: "Even ships venturing to the coldest destinations are likely to have a heated pool onboard.
"Others might have a spa that you can visit, and being prepared means you can take advantage of all the features of your boat.
Don't miss…
Royal Caribbean makes major change to alcohol policy – details [LATEST]
Cruise guest moans about 'out of control' child [NIGHTMARE]
Cruise guest complains about 'miserable' excursion [CRUISE]
"Even if you don't think you'll be taking a dip, it is better to be prepared and take swimwear along.
"Cruise ships often retail items for an inflated price, so forgetting your bikini can be more costly than you think!"
Most cruise ships have a spa area or pool so a swimming costume is an essential if you want to take a dip.
As Yasmin advised, many shops onboard are very expensive so it's better to buy something at the port if you forget it.
Comfortable shoes
Yasmin said: "Every cruise goer needs a comfortable pair of shoes. Even if you don't plan to go onshore, cruise ships are bigger than most people realise and spending time walking around and standing in lines is inevitable.
"Many retailers now offer affordable collections that are not only comfortable but look great, meaning you can stride in style too."
It can take as long as 20 minutes to walk from one side of a large cruise ship to the other so guests will need comfortable shoes.
City excursions may also require guests to do a lot of walking so a sturdy pair of footwear is a must.
Payment options
Yasmin added: "Since the pandemic, many places in the UK have gone cashless. This is not the case everywhere in the world, meaning that depending on the locations you travel to, some places may only accept cash.
"Check out the itinerary of your cruise and research the average budget per day depending on activities.
"Bringing a little bit of extra cash can also go a long way, and you can always swap it back when you get home."
Travel agents or cruise lines may be able to advise passengers on the destinations where they will need to take cash.
Source: Read Full Article