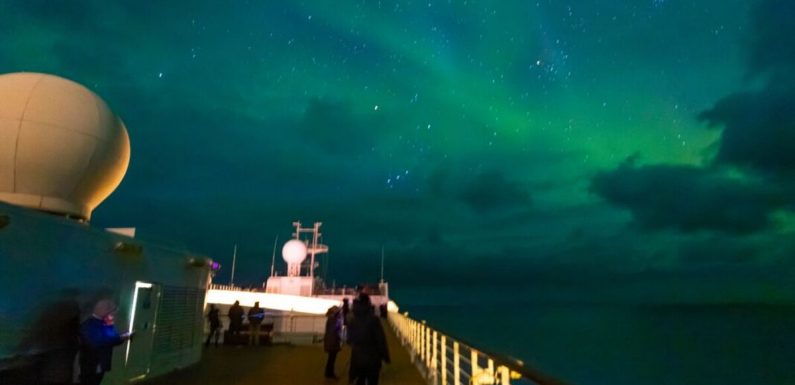 Paul Fellows is an astronomer with Fred.Olsen cruise line and built his first telescope aged just 14 before taking his GCSE in astronomy in his spare time. The astronomer is chairman of the Cambridge Astronomical Society and goes on about four cruise trips a year to share the wonders of the night sky with Fred.Olsen guests.
For Paul, there's something particularly special about stargazing at sea. He told Express.co.uk: "When you're away from land, you're away from all the normal light pollution from streetlights and buildings and so on.
"At around 10 o'clock, the captain puts the lights out on the ship for me. We have to do a few safety precautions because of course you can't have people blundering around in the dark.
"But once you're away from land and you turn the lights off, there's this sudden hush and wow from the crowd, because you see the Milky Way go from horizon to horizon.
"The air is also free of dust and dirt. When it's clear, it's absolutely crystal clear. There's just a different sort of tone of black to the night sky."
Book a cruise direct with Fred Olsen
View Deal
With unique and unusual itineraries all around the globe, search and plan your dream cruise holiday with Fred Olsen.
Fred.Olsen runs a program of lectures for guests and Paul's evening stargazing class is particularly popular.
He said: "Fred.Olsen has some really nice telescopes that show all the craters on the moon and you can see the cloud belts of Jupiter and the rings of Saturn and the planets as well.
"Most people have never seen anything like it. So it's really really popular.
But finding the best position for stargazing on a large cruise ship can be a challenge. Paul said: "There are a few spots on deck that are better than others. On the new Fred.Olsen ships, the lido deck at the back is best for it.
"One thing you have to try and organise which is always a bit of a game is to make sure that the exhaust from the funnel isn't blowing straight across the bit you want to look at.
Don't miss…
Flight attendant shares ultimate tip to get 'royalty' treatment [INSIDER]
Cheapest destination for a summer holiday named [INSPIRATION]
Over 300 guests and crew fall ill on Ruby Princess crew [LATEST]
"So I plan and choose which bit of deck I'm going to be on, partly based on which direction the ship's going and where the wind's blowing, which can be a bit tricky."
While Paul has travelled to the Canary Islands, Azores islands, Greenland and Norway with Fred.Olsen, there's one destination that particularly stands out to him.
He said: "I think it's the Caribbean because you stay out on deck for two hours there without freezing. You have a nice balmy night sailing slowly from one island to the other because the ship's never in a hurry.
"We did a superb meteorological shooting star event when we were trundling along on our way back across the Atlantic. I knew this particular night, the Earth would pass through the tail of the comet.
"I was just doing the usual tour of the night sky waiting for it all to happen and then suddenly there was a great bright flash and another and another one.
"And people were just sitting there in a deck chair with a drink, waiting for the next one. It was absolutely superb."
When it comes to the Northern Lights, Paul said the most important thing is to let your eyes adapt to the night sky.
He said: "If you go to see the Aurora, you need to go outside and let your eyes adapt to the dark for 20 minutes to get the best view.
"Otherwise people tend to sit in the bar and wait to be told but you need to let your eyes open right up in order to see the colour. It's absolutely stunning."
When you're excited for a cruise holiday, it's easy to forget to pack something essential. Paul said when it comes to photographing the night skies, there's one item holidaymakers won't want to leave behind.
Paul told Express.co.uk: "I always forget my mobile phone charger, but that's everywhere I go rather than just on my cruise trips.
"For me, if you've got a camera and you're going to try and take some photographs, bring a tripod. You can get some fabulous shots that way."
Source: Read Full Article