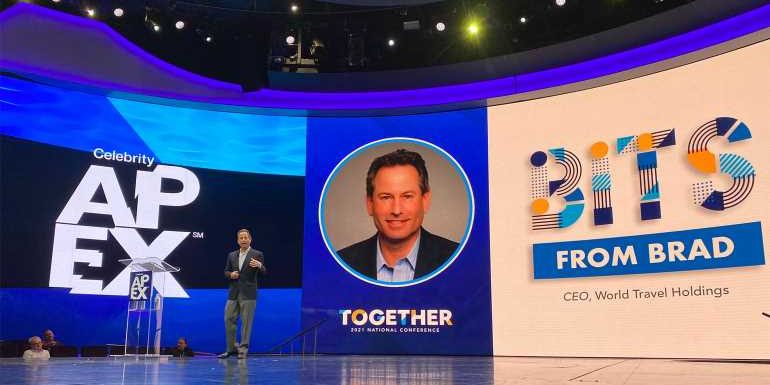 ABOARD THE CELEBRITY APEX — Worried about the travel industry? Don't be, says Brad Tolkin, CEO of World Travel Holdings.
Tolkin on Friday told a crowd of 800 travel advisors at WTH's national conference that he is "super-optimistic about the future" because of the "greatest confluence of positive events in my 41 years in this industry."
His many reasons for optimism include:
• Visa reported record earnings driven by travel.
• The TSA reported volume already is at 85% of 2019 levels.
• The stock market is at an all-time high.
• The book of cruise ship orders is at 92.
• Private equity has invested millions of dollars in Azamara, the Ritz Carlton Yacht Collection and Virgin Voyages.
• United Airlines is adding 270 new planes. 
• Hyatt has invested $2.8 billion in buying Apple Leisure Group.
• The personal savings rate is at an all-time high, with $3.5 trillion just sitting waiting to be spent. 
• There's a soaring number of retirees — "the reason we are seeing luxury going through the roof." 
Related: Travel advisors urged to prepare for luxury floodgates to open
But the biggest opportunity of all is the number of vacation days workers have built up and the new normal that allows people to work from anywhere, Tolkin said. 
"The pandemic has permanently changed where we work and how often we will be required to be in a physical location — and this genie is never going back into the bottle," he said. "This is why we are all so lucky to be in travel. I'm hearing expressions of policy from big corporations with catchphrases like 'April anywhere' and 'August anywhere.' 
"It's the greatest opportunity and you need to pounce on it," Tolkin said. "I hear the slot machines paying out commissions." 
Source: Read Full Article