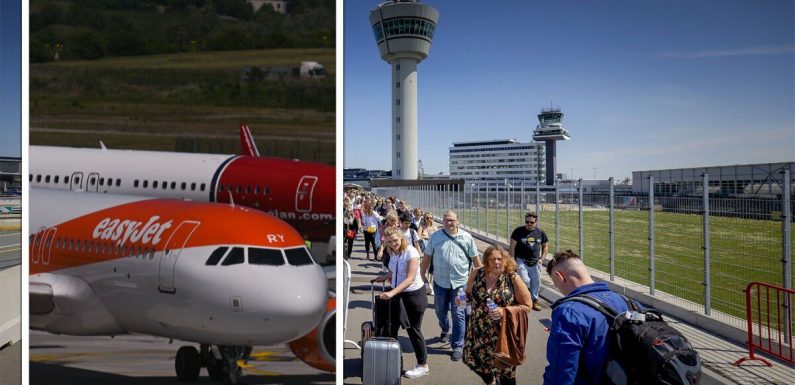 Queen branded 'amazing' for global travel by Gyles Brandreth
We use your sign-up to provide content in ways you've consented to and to improve our understanding of you. This may include adverts from us and 3rd parties based on our understanding. You can unsubscribe at any time. More info
British tourists have been hit by chaotic scenes this half-term as airlines and airports struggle with staff shortages. While some of the easyJet passengers were given notice of the cancellations, 14 flights were ditched at short notice.
easyJet told Express.co.uk: "easyJet will operate around 1,700 flights carrying around a quarter of a million customers each day over the bank holiday weekend, with a small proportion cancelled in advance either last week or overnight and informed of their options to rebook or receive a refund.
"Airlines continue to operate in a challenging environment including with air traffic control restrictions operating today at London Gatwick and issues with ground operations at several airports including at Amsterdam where the airport has requested airlines to cancel some flying today.
"As a result a small proportion of additional flights could be subject to disruption today.
"We fully understand the inconvenience this will have caused to our customers and we are very sorry for this."
One customer, "Chris", tweeted: "Thanks easyJet for cancelling our flight 10 minutes before we set off for the airport. You have just ruined our little boy's trip to Disneyland."
Another person tweeted: "easyJet cancelled my parents' flight for this afternoon."
One passenger Alexa Lloyd tweeted: "easyJet cancelled flight from Amsterdam with zero notifications or explanations.
"Can't go home for two days, resulting in missing work on Monday. Absolutely outrageous."
Shona-May Elliott tweeted: "easyJet cancelled our flight today, two hours before departure."
Jo Mossop tweeted: "Ridiculous state of affairs cancelling our return flights from Nice to London Gatwick with three hours notice this morning.
"No alternative offered until Thursday? No one to help and only offered refund."
Another person tweeted: "And us, we have been stuck in Amsterdam since 7am with still no food, drink or accommodation and no flight until Tuesday 6 available, according to easyJet. Disgraceful!"
British travellers have faced chaotic scenes as they try to get away for the Jubilee bank holiday.
British Airways, TUI and Wizz Air have also cancelled flights as the industry struggles with staff shortages.
Rory Boland, editor of Which? Travel said: "It is totally unacceptable that some airlines are overselling flights and passengers are still finding out their journeys are cancelled on the day they are due to travel. If a flight is cancelled within 14 days of departure, passengers could be entitled to compensation and can ask to be rebooked using another carrier if necessary – but we know some airlines are not meeting this legal requirement.
"Ultimately, this chaos is a reminder of why passenger rights must be strengthened.
"The Government should drop its misguided plans to cut compensation for delayed and cancelled UK flights and give the Civil Aviation Authority the powers it needs to hold airlines accountable – including by fining them directly when they flout the law."
There are fears that the chaos continue into the peak summer period as the industry struggles to recruit more staff.
Passengers are entitled to new flights on their intended day of travel if one is available and they are due cash compensation if the cancellation was short notice.
Source: Read Full Article