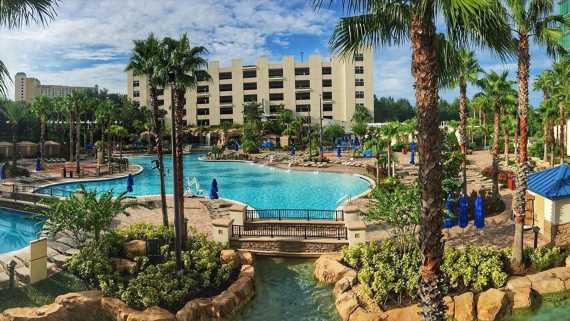 Strong leisure demand continues to boost Hyatt Hotels' outlook, but the company reported a net loss for the sixth consecutive quarter as the recovery is uneven. 
During an earnings call on Aug. 4, CEO Mark Hoplamazian announced a second quarter net loss of $9 million, down significantly from the Q1 loss of $304 million. 
With leisure leading the way in the return to travel, Hyatt has been working to reposition some properties to bring in business.
Hyatt CFO Joan Bottarini gave an example during the call. She said the Hyatt Regency Orlando prior to the pandemic received 70% to 80% of its room nights from group bookings. Now, leisure travelers account for half of the room nights after management adjusted its marketing and customer-targeting strategies.
"We're going where the demand is, and repositioning the properties successfully," she said.
Demand not only varies by business category but location.
"We do find ourselves experiencing very different demand profiles throughout the world. The overall recovery thus far has been much quicker than we predicted, and leisure demand is at a record high in certain markets," Hoplamazian said. "Yet, demand remains at historic lows in many parts of the world."
While Hyatt has seen revenue per available room in the U.S., mainland China and the Caribbean reach 80% of pre-pandemic levels, RevPAR in Europe, Southeast Asia and the Middle East is at less than 50% of pre-pandemic levels. Dense urban markets such as New York City, Washington, D.C., Chicago and San Francisco are also lagging in their recovery, Hoplamazian said. 
"The swiftness of the recovery is impressive considering major travel restrictions remain throughout the world, business and group travel have only partially recovered, and international travel remains limited," Hoplamazian said.
Systemwide RevPAR increased 30% to reach the highest level since February 2020.
"Business transient and group bookings are lagging leisure, but momentum is growing and we're encouraged," he said, noting weekday RevPAR by the end of June had reached 60% of 2019 levels after sitting at 40% of 2019 levels two months earlier.  
Bottarini said that rates at Hyatt's owned and leased properties are up 20% from the second quarter of 2019. 
"We're very encouraged at the rate by which our business is recovering," she said. "… We're mindful that this recovery will be uneven, but have unwavering confidence we're on the path to full recovery."  
The last time Hyatt posted a quarterly profit was the fourth quarter of 2019, when the company brought in $321 million in net income.
Source: Read Full Article