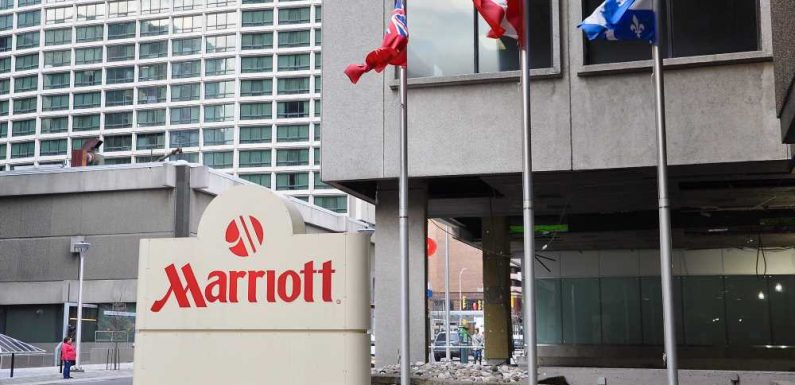 Marriott CEO Anthony Capuano said the hotel company's Q2 results reflected the "incredible resilience of travel demand," as there was a significant jump in key performance metrics.
Worldwide occupancy was 51%, a 13-point rise over the first three months of 2021. Revenue per available room (RevPAR) was $70.29, a 54% increase from Q1, and average daily rate was $138.28, a 14% increase.
"Global RevPAR has risen meaningfully and swiftly from the depths of the pandemic, when RevPAR was down 90%," Capuano said on Tuesday during a call with investors. 
Second-quarter metrics were even better in the U.S. and Canada, where two out of every three Marriott rooms are located. In the U.S. and Canada, RevPAR was $78.73, occupancy was 56% and average daily rate was $140.63. 
"In this region, lodging demand grew impressively during the second quarter led by increasingly strong leisure demand as the number of vaccinated people continues to rise," Capuano said.
Capuano added, "Recovery timelines vary by region given uneven vaccination trends, virus caseload and travel restrictions. Yet we remain encouraged by the incredible resilience of travel demand, demonstrated by the rapid return of guests in areas where rules have been eased and people feel they can travel safely."
Capuano said he expects to see a boost in business travel and group bookings after Labor Day as more workers return to offices and children resume in-person schooling. 
"I think the fall will be quite telling as we look for more conventional corporate group demand to return," he said.   
Related story: Hilton anticipating rush of group travel bookings
Various markets within Asia demonstrated the uneven progress of the recovery and how new Covid-19 developments, including case rate surges tied to variants, can impede steady progress. 
"The swift resurgence of lodging demand once the virus has been largely contained and restrictions have been eased has been most evident in mainland China," Capuano said. "Second quarter RevPAR in mainland China was on par with the second quarter of 2019, and in April, for the first time since the pandemic began, leisure, business transient and group room nights were all ahead of 2019 levels." 
But in the rest of Asia and in Europe, the recovery has lagged as restrictions have not faded away as quickly. 
"The recovery in Asia-Pacific excluding China stalled in the second quarter as countries such as Japan, India, South Korea and Australia imposed strict lockdowns in response to sharp rises in delta variant cases and low vaccination rates," Capuano said. "Encouragingly, the recovery is now picking up steam again as caseloads in countries such as India have started to decline." 
Marriott starts selling travel insurance
Meanwhile, Marriott continues to lean into diversifying its revenue streams with branded credit cards and recently started offering its U.S.-based customers travel insurance at the time of their booking. The insurance is offered through Allianz, and Marriott receives a commission from the sales, Capuano said. 
The company added 149 properties with 24,909 rooms to its worldwide portfolio during the second quarter, including roughly 5,300 conversion rooms and roughly 13,000 rooms in international markets. Additionally, 18 residential properties are expected to open during the year, which would be the most ever in a single year. Marriott expects net room growth for 2021 to be between 3% and 3.5%.
"We are very pleased with our momentum around conversions," Capuano said. "Conversions accounted for 26% of rooms added in the first half of this year, and have been a meaningful contributor to signings." 
Second-quarter net income totaled $422 million, up from a net loss of $234 million in the 2020 second quarter and a net loss of $11 million in the first quarter of 2021.  
Source: Read Full Article