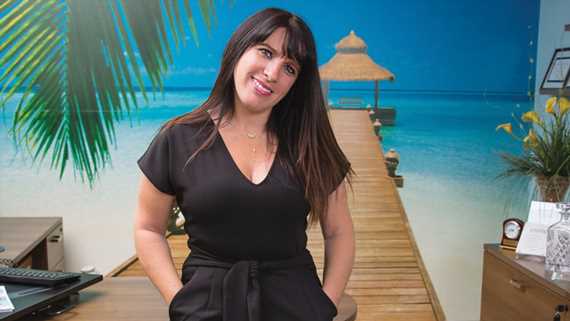 It's time for a remix in the travel agency world, Avril Winkle says. And she already has begun.
Like a musician releasing a remix of an old song, "where you take out the pieces you don't like and put in new pieces you do, I'm remixing the way I do business," said Winkle, owner of Destinations Travel Services in Sterling, Ill. "The travel industry has changed; there's no getting away from it. And we need to change the way we do business."
Across the industry, travel advisors are shaking up their business models in a number of ways, moving away from things that no longer work. They're replacing full-time employees with independent contractors (ICs), for example, and adding things that do work, like fees. 
The workspaces themselves are getting a remix, too.
Even before Covid, Winkle noticed that most walk-ins to her storefront in Sterling were browsing and not buying. So as social distancing became the order of the day, the first significant change to her business was "by invitation only" appointments.
Next came a shift in physical surroundings. She gave up the lease to her brick-and-mortar storefront and opened a "chic suite" in an office building, "so as soon as someone walks in they feel like they are on vacation." 
"If they are looking for Australia, I play the music that goes with the trip, we sit down on a sofa and have a drink and chat. There is no desk forming a barrier between us," Winkle said.
In her mind and that of her customers, Covid proved once and for all that travel is not a 40-hour-a-week business.
"We're available when you need us, and we don't need to sit in a storefront from 9 to 5," she said. "So I'm doing things differently. When a client comes in, I'm not booking a trip; I'm doing a consultation. Then I present them with a plan a day or two later."
A business idea in Boca
Meanwhile, in Delray Beach, Fla., Leslie Tillem was thinking about remixing her business, too. She had a brick-and-mortar office in Manhattan but was spending most of her time in Florida, watching neighboring Boca Raton fill up with young and wealthy families.
It got her thinking about opening a branch that would cater to those new residents, so after talking with two independent contractors at an industry event who had similar ideas, she came up with a proposal. She would open a branch in Boca Raton, and the independent agents could come work with her. 
"I've been talking about this for years, it was needed. And when the pandemic hit, I felt people needed us more than ever," she said. "The Bridges is the fastest-growing community in Florida, full of young, affluent families, and I wanted a big storefront that people would see and realize that travel advisors are around and here to help. There's nothing like us in this area."
Related: One agency's idea: Have a 'concierge qualify clients
This month, Eltee Travel's new space — complete with a décor designed for inspiration, a wine bar designed for relaxation and a candy bar designed to, among other things, feed the sugar cravings of the owner — opened in Boca Raton. 
Of course, supply chain issues held up delivery of the furniture, the giant TV for the conference room arrived cracked and a glass wall broke and had to be reassembled. But there are four ICs currently working and two in training, and there are plans to add two more as the business grows. 
The neighborhood already seems to be taking notice. While helping to get the place set up recently, independent contractor Kim Schneider left the door ajar, and a woman passing by stuck her head in and said she needed 12 business-class tickets to Europe in July.
Tillem's remix goes beyond just selling travel, though; her real hope is to usher in a new class of young travel advisors. A former adult education teacher who trained a generation of travel agents in New York many years ago, Tillem can't wait to recruit and train some of the 30- to 40-year-olds who are flocking to the area.
Related: Travel advisor makes her own Disney magic on cruise stop
"I want to teach them the real value of being a travel advisor," Tillem said. "This is the perfect time to open a brick-and-mortar storefront agency and to bring some young blood into the industry, even if at first they just sell Disney to their friends."
Hiring more ICs and fewer employees is part of Winkle's remix, as well. 
"We have been very fortunate, our business has been steady since August 2020, and this year it's getting busier," she said. "There's never been a better time to reinvent ourselves."
Source: Read Full Article