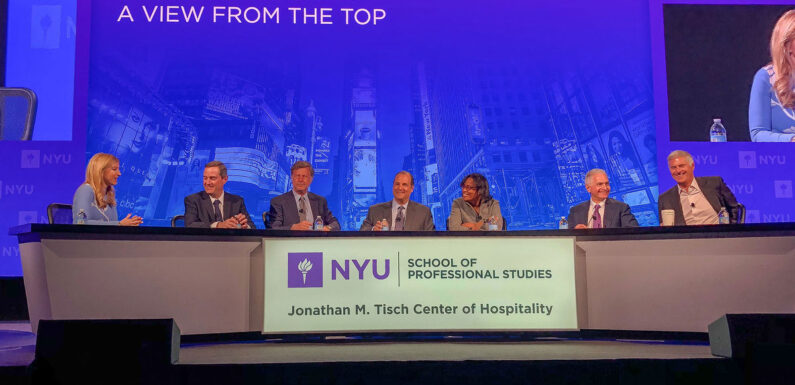 NEW YORK — Concerns about high inflation and a possible recession did little to dampen the mood at this year's NYU International Hospitality Industry Investment Conference. The industry's top executives maintained a rosy outlook for the remainder of 2023.
"We don't really see any slowdown, even in the face of some pretty troubling economic headwinds," said Marriott International CEO Anthony Capuano during a panel discussion at the conference on June 5. "Forward bookings are pretty compelling."
IHG Hotels & Resorts CEO Keith Barr had a similarly sunny take, asserting that the hospitality sector "now probably has more tailwinds than any other industry."
Barr cited the continuation of an "incredibly robust" recovery in markets like the U.S. and Europe as well as encouraging consumer trends.
"From a consumer discretionary standpoint, travel's one of the last things they want to stop spending on," said Barr, adding that factors like low unemployment and the industry's "healthy balance sheets" are helping to insulate against the threat of an economic slowdown. 
Accor CEO Sebastien Bazin confirmed that consumers appear more willing than ever to pay top dollar for travel, citing the industry's exponential rate growth.
"Prices are through the roof and staying there, which is kind of a surprise for us," said Bazin. 
Leslie D. Hale, CEO of RLJ Lodging Trust, told the audience that the fundamentals of the hospitality business "remain healthy," while Hilton CEO Chris Nassetta drew attention to a comeback in business travel, though he acknowledged that small and medium-size businesses now account for an outsized share (85% to 90%) of the company's overall business travel pie. 
Some of that bullishness was borne out in data from STR and forecasting partner Tourism Economics, with STR releasing a slightly upgraded U.S. hotel forecast for 2023 during a conference presentation. 
The hotel industry is in uncharted territory
STR revised its projections to include increases of 0.5% and 0.3% in average daily rate (ADR) and revenue per available room (RevPAR), respectively, thanks in part to stronger-than-expected GDP performance. Occupancy, however, saw a modest downshift, with growth expected to come in at a lower-than-predicted level of 0.1% for the year.
Despite the continued rate gains, STR president Amanda Hite warned of "choppy waters ahead," citing a slowdown in growth and the fact that inflation is rising at a faster rate than ADR.
"The bulk of our growth came in the first quarter, and in the second half of the year we will still have growth, but it will be very little by the fourth quarter," said Hite. 
Still, Hite highlighted the hotel industry's ongoing resiliency. 
"For us to forecast growth when we're expecting a declining economy is unheard of," said Hite. "We've never seen two consecutive quarters of GDP decline and not seen any hotel demand decline. It's very much uncharted territory."
Source: Read Full Article