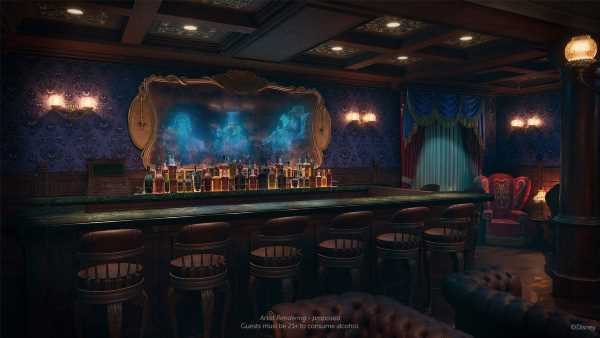 Disney Cruise Line will morph its Haunted Mansion park attraction into a bar aboard the Disney Treasure. 
The Haunted Mansion Parlor will be a highly themed bar space reminiscent of a drawing room from classic cruise liners, invoking inspiration from the original Haunted Mansion with a nautical twist, Disney Cruise Line said.
The lounge will include tributes to the Disney parks attractions: the iconic purple wallpaper framed by wooden finishes, a mantel clock atop a fireplace and a purple armchair tucked in the corner.
Characters from Haunted Mansion attractions at Disney parks — as well as new seafaring arrivals — will "come out to socialize in mysterious ways throughout the experience," Disney said. 
In the seafaring chapter of the Haunted Mansion, there's a new storyline: a jovial captain enters the ghostly realm after a disastrous dinner with his fiancé. 
A musical arrangement inspired by the attraction's original score will be arranged and adapted by composer Shruti Kumar Disney says there will be an "anthology of illusions that immerses guests into the mysterious lore of the Haunted Mansion."
Cocktails will capture the spirit of the Haunted Mansion. A specialty mug titled Sympathetic Libations will be filled with a zero-proof cocktail with blood orange and sour cherry flavors. 
Ghoulish Delight will be another zero-proof option, incorporating ube fudge (ube is purple sweet potato), oat milk and tapioca pearls in a purple concoction garnished with a gummy eyeball and ube glitter. 
There will be a spooky twist on a classic margarita, presented to guests amid a swirl of flavored smoke. Topped with a lemon salt foam, the drink will contain a secret message, only to be revealed by black light. 
The bar will also serve as inspiration for specialty merchandise, like an eerie music box playing the parlor's soundtrack, a mantel clock like the one that looms over the fireplace, and a parlor mirror "offering a ghoulish surprise to unsuspecting users when the hitchhiking ghosts mysteriously appear."
The Haunted Mansion Parlor will be located midship where the Hyperspace Lounge is located on the Treasure's sister ship, the Disney Wish. The Disney Treasure is expected to debut on Dec. 21, 2024. 
"I think clients who are big Disney history fans are going to absolutely love it. The casual fan is probably going to be excited about it, but the Disney lover at heart is going to lose their minds," said Adam Duckworth, president and founder of Travelmation in Fort Lauderdale (No. 55 on Travel Weekly's 2023 Power List).
Duckworth is attending the Disney Destinations EarMarked Program Owners Summit in Orlando. 
___
Jamie Biesiada contributed to this report.
Source: Read Full Article