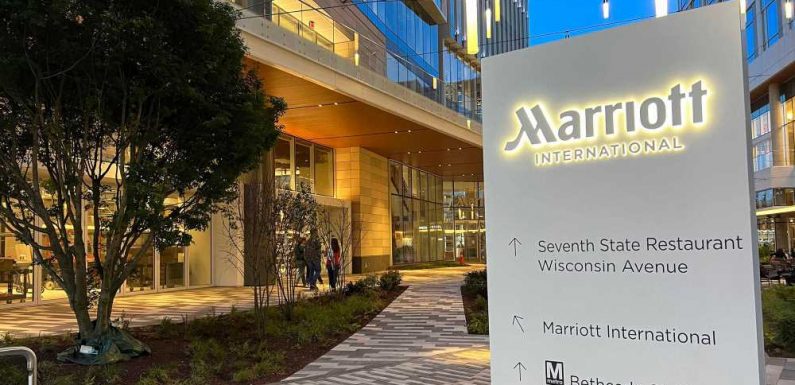 The continued soaring demand for leisure travel spearheaded Marriott International's second-quarter performance, with revenue rising to $5.3 billion, a 69.5% increase from last year's Q2. 
The company reported net income of $678 million, up from $422 million.  
Group demand also improved materially, particularly in the U.S. and Canada. In June, revenue per available room (RevPAR) for group business in the U.S. and Canada was down just 1% from 2019, said Marriott CEO Tony Capuano, compared with down 17% from 2019 in March. 
While business travel also rebounded, Capuano said that the segment was returning "at a more moderate pace." In the U.S., Marriott reported that June business transient room nights were 9% below the same month in 2019, versus down about 20% from 2019 in the first quarter.
Related: Business travel comeback boosts Hilton's Q2 earnings
"When we think about business transient demand, the small- and medium-sized businesses are back above 2019 levels of volume," said Capuano. "The bigger corporate customers, they are not quite back yet, but even there, we continue to see steady improvement, albeit not necessarily as rapid as we might like."
Capuano added that combining business and leisure travel has emerged as a priority, with meeting planners requesting that Marriott "do everything we can from a technology perspective to make it easier to tack on a couple of leisure days to the reservation pre- or post-meeting, which is just another confirmation that blended trips will likely endure well beyond the end of the pandemic." 
Related: Hotels roll out late-summer deals
Europe's robust comeback, China's struggles
In terms of regional performance, Europe enjoyed what Marriott CFO Leeny Oberg called "the swiftest RevPAR recovery of all of our regions this year," bolstered by a robust comeback in international travel. According to Oberg, RevPAR in Europe surpassed 2019 levels in June.
Oberg added, however, that China travel continues to be weighed down by strict Covid policies.
"Greater China's RevPAR during the quarter declined more than 50% compared to 2019 as a result of the lockdowns in many cities, including Shanghai and Beijing," Oberg said.
Across all regions, RevPAR increased 70.6% in Q2, to $119.37, while occupancy for the quarter improved 16.7 percentage points, reaching 67.8%. Average daily rate was up 28.6%, to $175.99.
Source: Read Full Article