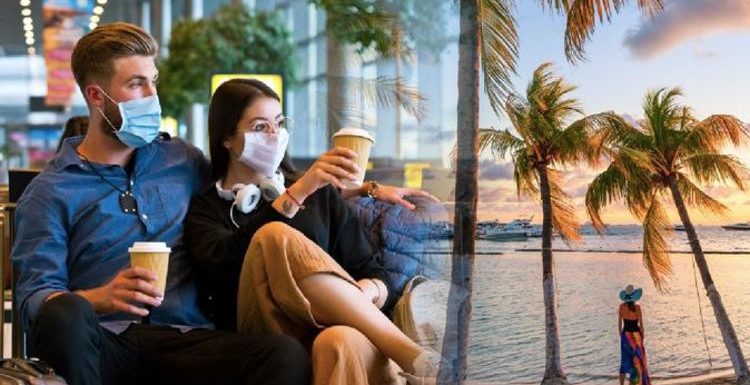 Travel: Govt looking to avoid 'open and shut' plan says expert
When you subscribe we will use the information you provide to send you these newsletters.Sometimes they'll include recommendations for other related newsletters or services we offer.Our Privacy Notice explains more about how we use your data, and your rights.You can unsubscribe at any time.
Many Britons are eagerly awaiting a change of scenery in the form of a holiday, and the good news is some travel is just around the corner. However, while domestic holidays are expected from the end of April, Prime Minister Boris Johnson has assured more information on the future of foreign holidays will be unveiled in a matter of weeks. What are the key dates Britons need to know about for travel?
April 5
Prime Minister Boris Johnson has said more information on the possibility of foreign travel will be unveiled on April 5.
This is one week before the Government's Global Travel Taskforce is due to resume meetings.
Speaking at a press conference, the PM urged Britons to wait until they had heard from the Taskforce before making any holiday plans.
"A lot of people do want to know about what's going to happen on the holiday front and I know there's a great deal of curiosity and interest," he said.
"All I can say is it's just too early to say and my advice is to everybody to wait for the global travel task force to report.
"We've heard already that there are other European countries where the disease is now rising so things certainly look difficult for the time being but we will be able to say more we hope in a few days' time, I certainly hope to say more by April 5."
April 12
Following a report from the Global Travel Taskforce, ministers will review the possibility of reopening some travel.
Though Mr Johnson initially set out May 17 in his "roadmap" out of lockdown, rising cases in foreign countries could push this date back.
From April 12, the Taskforce will review plans every 35 days taking into account coronavirus figures both at home and abroad.
However, April 12 will be a key date for domestic holidays.
From this date, self-catered holidays, including some caravan and camping trips, will be allowed to go ahead.
They must only cater to single households.
DON'T MISS
Google Maps Street View: Aftermath of car accident spotted [VIRAL]
Spain holidays: Nation to lift travel ban from March [UPDATE]
Spain number one location for British expats data reveals [DATA]
May 17
May 17 is a key date in the PM's roadmap out of lockdown and could be the start of some international travel.
However, the new legislature from the Government means the travel ban could be extended right up to June 30 if the Taskforce deems it necessary.
"As Prime Minister Boris Johnson unveiled in his roadmap out of lockdown, the earliest date that international travel could resume was set to be 17 May. And that date does still remain a possibility," explained travel expert Nicky Kelvin, head of content for The Points Guy UK.
"Once the Global Travel Taskforce announces its findings on a return to travel by 12 April at the earliest, we will have a clearer picture if that May 17 date will hold.
"If the Global Travel Taskforce does find that international travel can resume on May 17 — or at any other point before June 30 — then it will be permitted to do so."
May 17 is also a key date for domestic holidays, with more accommodation types being given the go-ahead to reopen their doors.
From this date, hotels and B&Bs may ripen.
Furthermore, private holiday lets can accommodate groups of up to six people or two households.
June 21
June 21 is the date the PM says he will put an end to all "social restrictions".
However, this will be largely dependent on data at that time.
Foreign travel could be opened up further at this point, though this will only be possible if foreign governments also allow it.
"While the date for the return to international travel is still largely up in the air, there are new fears of a third wave of the pandemic rising around Europe, which could, unfortunately, derail travel plans," explained Mr Kelvin.
Source: Read Full Article