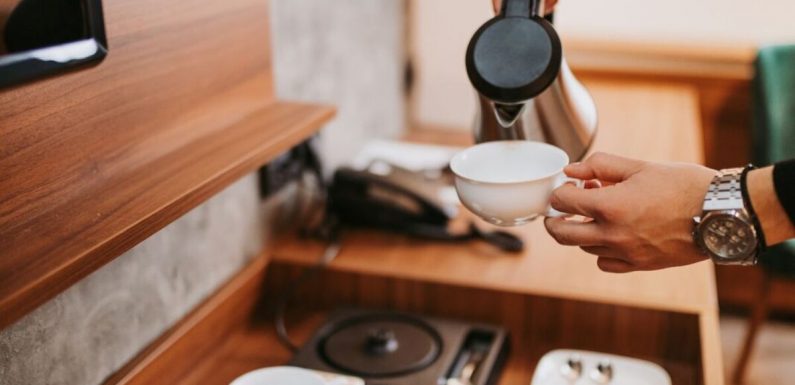 Hotel rooms are usually cleaned between each guest's stay and this is usually to a very high standard. However, some tourists have said they don't feel comfortable using a hotel room kettle.
A person wrote on Reddit: "Would you use a hotel kettle? I was discussing it with my work colleagues.
"There were lots of different opinions ranging from 'boiled water is fine' to 'people use it to wash their underwear'."
Recently a woman went viral after she claimed that she had used a hotel room kettle to wash her underwear.
While it might be unlikely that a lot of guests are using the kettle for that, some guests said they just didn't feel comfortable using it.
One said they would "never" use the room kettle, saying: "There's no end to the disgusting things humans will do if they think they won't get caught."
A former hotel worker said: "I worked in a hotel for a bit and I'll say just because something looks clean, doesn't mean it is."
If hotel cleaners are in a rush, some items, including the kettle, might be missed during the cleaning process.
However, another cleaner warned: "As a former maid, the kettle's fine but avoid the mugs and cups."
Guests might want to wash the cups or mugs when they check into the hotel room as they might not have been cleaned.
Another worker claimed: "I work in a hotel and I wouldn't use the kettle. Wouldn't use the glasses either.
"It's not so much how people have used it, it's how housekeeping clean it. One colleague used the towels that were used by the previous guest to dry out the glasses!"
However, other tourists said they couldn't understand why anyone would be worried about using the kettle.
One said: "I use hotel kettles, unless there's something wrong with them. 90 percent of them are shiny and clean like they've never been used.
"One time there was something plastic burned into the bottom of the kettle. I called the housekeeping staff and they took it away and gave me another one immediately, with apologies.
"Hotel guests are a bunch of savages, but hotel staff seem to provide clean usable kettles in my experience."
Another guest said: "If you're paranoid, fill it with fresh water, boil it and check that. And redo it."
Hotel guests could boil the kettle once and then throw away the water to give it a quick clean if they're worried.
Another hotel worker said: "As a housekeeper I would say that it depends on the hotel. We descale ours at least once a month and check them/empty them after each room clean.
"But then I work in a boutique hotel. If the kettle is still full of water when you get in the room or full of limescale, do not use it."
Guests can also contact the hotel reception if they think the kettle is dirty and ask for it to be replaced.
Source: Read Full Article