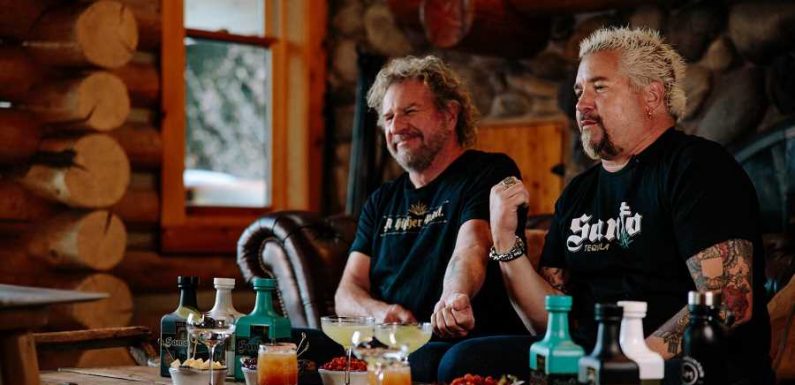 It's difficult to imagine anyone having more fun with their job than Guy Fieri. The chef, restaurateur, and Emmy Award-winning television host doesn't simply go through the motions. Whether describing the origins of molcajete, or just giving you directions down the street, he does so enlisting every ounce of exuberance you'd expect out of a 52-year-old man with frosted tips.
So when his beloved industry was faced with unprecedented crisis, Fieri could hardly abide being on the sidelines. At the onset of COVID-19 lockdowns in March 2020, he sprung to action launching the Restaurant Employee Relief Fund. Within weeks he had raised nearly $25 million dollars for colleagues from coast to coast; 60,000 grants were awarded in total. 
Fieri spent the summer recalibrating his notoriously nomadic show on The Food Network to reflect the times. Rather than wandering the country to capture some of the best diners, drive-ins, and dives, he re-created their most acclaimed recipes in his home kitchen while sheltering in place.
With winter approaching, Fieri fixed his focus on Santo — the nascent Mexican spirit brand that he co-owns with longtime friend and former Van Halen frontman Sammy Hagar. In December they unveiled their latest offering: a gentle reposado tequila aged for six months in French white oak casks. 
Travel + Leisure was there for the launch at Lone Mountain Ranch: a trove of luxe, snow-capped cabins at the foot of Montana's Big Sky Resort. Not exactly the setting you'd associate with margarita mixing. But as soon as Fieri stepped behind the bar, the scene somehow made perfect sense. While uncorking a shiny new turquoise-tinged bottle, he also poured out some backstory and offered insight into the future of food and travel. 
Travel + Leisure: What brought you into the tequila world?
Guy Fieri: "I thought I was allergic to tequila in college. Every time I drank it, I broke out in handcuffs [laughs]. No, I was always a tequila fan. But unfortunately back then there wasn't good tequila — or I couldn't afford it. When I finally started to see good tequila come in, it was right around the time that I met Sammy [Hagar] and I had my own restaurants going — around the late '90s."
You were one of the first big accounts for his original brand, Cabo Wabo?
"One of [their salespeople] comes in to sell it to me and the first thing I say is: 'Well, does Sammy own it or is it a brand marketing deal?' And she said it was really his. And he lived just a half an hour from where I lived in Northern California — he still does. So I started selling it and she eventually comes back and said, 'You're doing a really good job. You know, whoever sells the most Cabo Wabo in Northern California is going to win a signed electric guitar from Sammy?' And I said, well you might as well just bring me that guitar now. Because I'm going to win this."
And that was an entry point for you into the higher-end of the category? 
"What it was, at that time, it was a great way to educate people about great tequila and how it's made. And they were fortunately giving good info about tequila. I started branching out and started to really appreciate [sipping] silver tequila — blanco tequila."
So your relationship with Sammy developed from there? 
"Well, fast forward 6,7, 8 years. I got on The Food Network. I didn't know what to do with this situation; media, all this kind of celebrity stuff I had to deal with. So I'd call Sammy and he'd give me advice. He knew what a big fan I was and I'd go down to the [Cabo Wabo] warehouse, and he'd give me all kinds of special bottles. 
Then one day he calls me. I know exactly where I was, I was shooting this diner joint on Bainbridge Island off of Seattle. He says, 'Guy-bones!' That's what he calls me. 'I got good news and bad news. Good news: I got $80 million dollars!'
I said — Sammy, that's fucking GREAT news. What's the bad news? And he had sold Cabo Wabo. 
All I can say is, congratulations. I mean, how do you tell your buddy, 'Sorry that you got $80 million dollars,' right? But I said to him if you EVER get into tequila again, I want in."
He never forgot that conversation? 
"Ten years go by — the length of his covenant not to compete — and he calls me and asks if I have a minute to talk. Of course…I always got a minute for the Red Rocker. 
And he just says, "Are you in…Yes or no?
I'm like…Sammy. In what?
'We're in the tequila business, baby!' And that started the whole thing."
Talk about how you've been finding ways to stay busy during the challenges of 2020.
"Right when COVID hit we went to our ranch. We have a big, 520-acre ranch outside of Napa [Valley, California]. We have an organic farm and we raise about 500 goats — kiko goats from New Zealand. So we got in the goat business and we're in the black angus beef business. We dabble in a lot of stuff.
But the point is, we went up there and my show Tournament of Champions was just getting ready to air. [The producers] wanted me to tape some commentary so that we could play it along with the show. So we ordered some GoPros. Hunter's pretty smart — my oldest [son] — and he sets them up on tripods and we sit on the couch and we just talk about each competition like sportscasters watching a live game. And it worked great.  
So I called the president [of The Food Network] and said I got an idea. What would happen if I had the Diners, Drive-Ins and Dives places that we know really well — people we have footage with — and we have them send us a dish and then we would prepare the dish at home, because all of these people have this to-go thing going on right now. Then I taught my youngest son, Ryder, how to be the live camera guy. And it became Diners, Drive-Ins and Dives Takeout. It BLEW up. We shot 20 of them in the course of the lockdown. We were productive." 
You were also incredibly productive on the charitable front during the unprecedented challenges of COVID. How did that come together? 
"Unprecedented is the key term of 2020 — in every facet. 
A good buddy of mine is really close to the California legislature. So I called him in mid-March and was just like, 'This is looking like it's going to meltdown any minute.' 
He told me it was going to meltdown that night: restaurants were going to have 48 hours. 48 hours! You know how much inventory? How many people have car payments? You understand the magnitude of what's going to happen when you shut the restaurant industry down overnight? This isn't just about people not having the convenience to eat food — this is the lifeline to single parents, to students, to dual-family incomes. Many people who work in the restaurant industry have two jobs. 
So, the next morning I called my manager and my executive chef and I gave them $50,000 to buy gift certificates at all of the restaurants around [my hometown of] Santa Rosa. But I quickly realized I couldn't just do my neighborhood. We had to do California. So I call my buddy who is the president of the California Restaurant Association — I used to be on the board — and I said hey, I want to raise a bunch of money and give it to restaurants. Do you have the infrastructure to give it to restaurants that need help? 
They said sure but asked me how I was going to raise it. I hadn't gotten that far yet. I was designing the bomb backwards. I wanted something that goes boom — but how you gonna make that? There must have been 30 phone calls throughout the course of this day. Finally I get this epiphany: I'm going to go to all of the people who make the money off of the industry — the suppliers — and tell them that now's the time to stand up and give back."
Then you decided to go even bigger? 
"I'm thinking…Wait a second, I can't just do this for California. I go all over the country doing Triple D. I gotta save my brothers and sisters everywhere. So we get the National Restaurant Association on the phone and I tell them I have an idea. A lot of times celebrities get these visions of grandeur — that they can move mountains, but I tell them to just hear me out. Get me the names and cell phone numbers of the top 50 presidents of the top companies that directly contact and do business with the restaurant industry. That's what I need — by this afternoon. 
I get the names of everyone: UberEats, Cargill, Pepsi, blah blah blah. I take my phone, I set it up in my kitchen and I make individual videos about their respective companies and their interactions with the industry and give them the details and magnitude of the implosion. 
'Jeff Bezos of Amazon, how you doing, my name's Guy Fieri…'
My wife looks at me and says, 'You're losing your mind. This is how you're going to be through this? Cabin fever is going to drive you insane.'
But I knew I could make it work because I was going after them on so many different levels: heartstrings, responsibility, the industry won't forget. I'm punching from every angle I can. 
Next morning, I'm driving and my manager calls me and tells me I need to pull over, 'Pepsi gave you a million dollars and I have them on the other line right now — they want to talk to you.' It still gives me goosebumps."
That was just the beginning. 
"An hour later, UberEats was on the phone. They gave us $2 million. By the end of that day we had $8 million and I was losing my mind. And you know what, you gotta shoot big if you're going to go big. We start getting $250,000 here, $500,000 here. Then at the end of it all, it was just under $25 million. And what we got from the National Restaurant Association was the infrastructure. They were used to taking money from corporations, dicing it up and giving it out as scholarships to students. That's what I needed. I couldn't take the money myself and just put stamps on envelopes."
What will food and travel look like in the year ahead? 
"If we take any blessings out of this, first, it's that people have learned to do delivery. No matter what level of restaurant you are, you've learned to do delivery. Two, the laws have lightened up on the alcohol service and alcohol delivery. And people are learning to survive at home better. 
We've got this next round of COVID to get through. It's kind of like, we're in the 4th quarter, we're almost there. Once we get through this, customers are going to be much more appreciative of the opportunity to go out. And the restaurants have refined and improved, they're like Rocky in 'Rocky IV,' working out in the snow in Russia. I think people have learned to unify and come together and help one another. The tough side of course, is that we're not over it."
Did you get an opportunity to see or hear from some of the people personally affected by these contributions?
"When we had a little opening with COVID, I went to South Dakota and North Dakota to shoot and I ran into people. They came up to me and said it was unbelievable. 'It wasn't just about the money, it was that people we didn't even know cared about us.' The restaurant business is there for everybody: it's a place to eat, to feel good, to hang out, to interact. And they've never asked anybody else for anything. Sorry, I've been so longwinded — it gets me all worked up talking about this stuff."
Where's the first place you're going to as soon as you're able to travel freely again? 
"Hawaii! Probably Maui. I love to dive. Although I love going up on the volcano of the Big Island. But I'm a water junky."
Source: Read Full Article