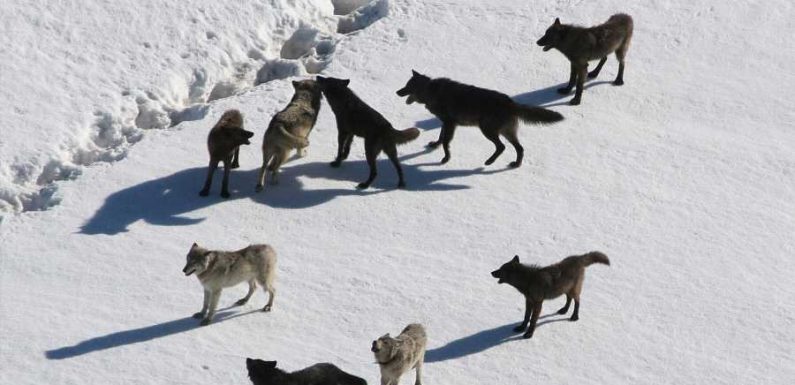 Editor's Note: Those who choose to travel are strongly encouraged to check local government restrictions, rules, and safety measures related to COVID-19 and take personal comfort levels and health conditions into consideration before departure.
According to the Chinese zodiac calendar, 2021 is the year of the ox. According to wildlife biologists, it could be the year of the wolf. It's easy to argue there's never been a better time for wolf watching in Yellowstone, where the wolf population is estimated to be up by as much as 20 percent. Last year marked a quarter of a century since wolves were re-introduced to the park. Today, it's home to some of the best wolf watching in the world. Yellowstone's gray wolves don't know we're in the midst of a global pandemic. They have no clue they were removed from the endangered species list in October. All they know is they need to survive another winter.
It's no secret winter is one of the best times to visit Yellowstone, especially for wolf watching. While the park's bears are hibernating, its eight different wolf packs are concentrated in lower elevations where their prey — mainly elk and bison — are feeding. They're easier to find and photograph against a backdrop of white. Still, just because you come in winter doesn't mean you'll see one. That's where a wolf tracker comes in.
"There's definitely a DIY version of wolf watching, but to maximize effort and time, it pays to go with a guide," says Nathan Varley, one of the park's first wolf trackers. The son of park rangers, Varley grew up in Yellowstone. He has a PhD in ecology and is the founder of Yellowstone Wolf Tracker. When he started leading wolf watching tours in 1997, it was just him and his wife. In 2021, he'll be employing 10 guides. But even with a guide, seeing the elusive Canis lupus isn't guaranteed.
"Normally, you have a 50/50 percent chance of seeing a wolf," says Varley. But this year odds have climbed as high as 90 percent. These consistent sightings are mostly thanks to the Junction Butte pack. Numbers-wise, it had an incredibly successful 2019 and 2020. The park's largest pack, and one of the largest in its history, has 34 wolves. Eighteen are puppies from last year's litters. In addition to the Junction Butte pack, there are several other packs with more than 20 wolves roaming the region. Most gray wolves live in packs of four to nine wolves.
The total wolf population in Yellowstone is at least 94, the highest it's been in the past few years. According to Varley, about one out of three wolves in the park is collared. He relies heavily on his radio and close relationships with groups studying the wolves who have access to the radio collar frequencies and can pinpoint a pack's approximate location. He's less of a wolf whisperer and more of a wolf watcher whisperer. Everyone in the park knows him. Many of the recreational wolf watchers who return every year are there because of him.
"Nathan took us out on our first wolf watching trip 20 years ago," says a gentleman sitting behind a spotting scope overlooking a snow-covered meadow where two black wolves are running on a cold but clear December day. His female partner, perched behind her own scope, recalls they didn't see any wolves that time. The weather was terrible. The wolf watching was even worse. "We just saw snow."
Yet, here they are again, visiting from California, two decades later. And they're not alone. Recent TripAdvisor reviews for Yellowstone wolf watching tours run the gamut — from a couple on their honeymoon to a family with teens and even a father looking to spread his daughter's ashes. The only thing they have in common are the 5-star reviews they left.
It's easy to argue wolf watching in Yellowstone has never been better. In addition to an increase in the wolf population, the advancement of technology is a total game changer. Back in the day, Varley had a Nikon. Today, he swears by his Swarovski spotting scopes that can transform a dot in the distance into a scene worthy of National Geographic. Plus, this winter Yellowstone Wolf Tracker is partnering with one of Montana's newest lodges. Built in 2018, Sage Lodge is the only luxury property in Paradise Valley, just 35 miles from Yellowstone's north entrance. It's the only entrance open year-round.
Justin Robbins, general manager at Sage Lodge, calls wolf watching a "must-do" for visitors in the area. "We knew wolf watching activities needed to be a standard winter offering for our guests," says Robbins, who calls the experience "seamless." Guests can book the wolf watching experience when they book their room. Sage Lodge provides a backcountry picnic, and Yellowstone Wolf Tracker's guides provide transportation. Depending on where the wolves are, the eight-hour tour includes hiking and/or snowshoeing. The package is $850. King rooms at Sage Lodge start at $269. The property's four-bedroom ranch houses start at $1,329.
Between the private guide, Swarovski scopes, and if you appreciate the finer things, luxury stay at Sage Lodge, wolf watching isn't a budget vacation. It's definitely a bucket list item. After all, Yellowstone is America's Serengeti. But why are wolves — which are so similar to man's best friend — its black rhino?    
"We know so much folklore but few of us have any direct experience with wild wolves," Varley says. "They're a mystery to us.  At the same time, dogs, or domestic wolves, are very familiar to us."
His goal is to bridge that gap between the familiar and the mysterious.
Source: Read Full Article