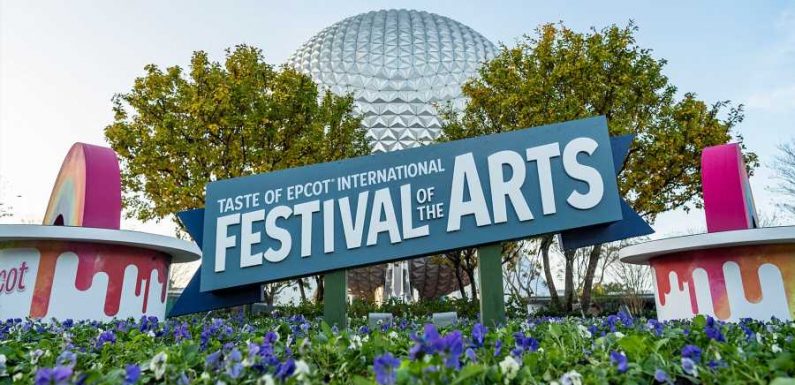 Editor's Note: Those who choose to travel are strongly encouraged to check local government restrictions, rules, and safety measures related to COVID-19 and take personal comfort levels and health conditions into consideration before departure.
The Taste of Epcot International Festival of the Arts has kicked off at Walt Disney World, and even though it has been modified to account for health and safety measures due to the pandemic, there's plenty of fun, themed food, and entertainment for guests to enjoy. Running from Jan. 8 through Feb. 22, this event is the theme park's first major festival of the year, and it's packed with artistic activities for visitors of all ages.
Beautiful culinary creations that look just as good as they taste can be found throughout the Epcot festival kitchens. At The Artist's Table in The American Adventure, you'll find a jumbo chocolate chip cookie that resembles an artist's palette and a sipping chocolate flight paired with liqueurs. Over on Showcase Plaza, visit the Deconstructed Dish for artfully deconstructed takes on classic foods like a BLT and Reuben.
Get excited for the upcoming Remy's Ratatouille Adventure attraction with a taste of the movie's namesake dish or a charcuterie snack at the World Showplace. There are many more dishes to look for around the World Showcase during the festival, including the sushi donut at the Japan pavilion, arancini in Italy, and a taco de chocolate in Mexico. Plus, many of the festival kitchens offer delightful seasonal beverages, like specialty cocktails, craft beer, wine, and more.
Interactive experiences, art galleries, and live performances are all on offer during the festival, too. Guests can learn about international art and culture with exhibits located within the World Showcase pavilions or chat with artists and pick up a piece of Disney-inspired art at the festival markets. There's even a daily Animation Academy at the America Gardens Theater where guests can learn how to draw their favorite Disney characters.
The Taste of Epcot International Festival of the Arts is the first of four yearly festivals at Epcot — in the spring, the theme park usually hosts the Epcot International Flower & Garden Festival, followed by the International Food & Wine Festival and Festival of the Holidays.
Elizabeth Rhodes is an associate digital editor at Travel + Leisure who loves all things theme parks. Follow her adventures on Instagram @elizabetheverywhere.
Source: Read Full Article