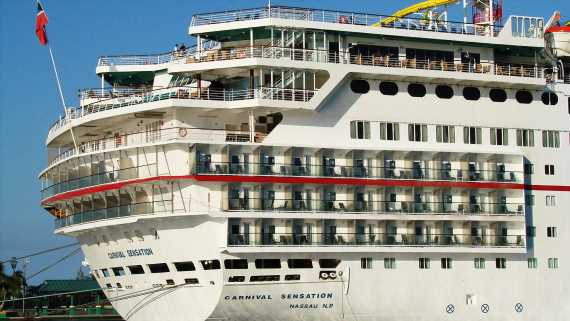 The Carnival Sensation, a ship that has been laid up since the Covid-19 pandemic shut down cruising in March 2020, will not sail another voyage for Carnival Cruise Line.
The Sensation and the Carnival Ecstasy will both leave the Carnival fleet. The Ecstasy will sail from Mobile, Ala., from March 5 to Oct. 10 for its final deployment.  
The Sensation is 28 years old. The 2,056-passenger vessel began service in November 1993 as Carnival's third Fantasy-class ship. 
When the Carnival Fantasy was sold for scrap in the summer of 2020, the 2,052-passener Ecstasy became Carnival's oldest ship. The Ecstasy was Carnival's second Fantasy-class ship, entering service in April 1991.
After the Ecstasy departs the fleet, Carnival will have two of eight Fantasy-class ships remaining: the Elation and the Paradise, which both entered service in 1998. The Elation will become Carnival's oldest ship.
Changes in Jacksonville, Mobile and Australia
In addition to announcing the departure of two ships, Carnival on Thursday revealed changes to its deployment plan.
As previously announced, the Carnival Spirit will replace the Ecstasy in Jacksonville, Fla. While that will happen for departures from March 7 through April 9, the next two cruises have been canceled. Carnival said it will soon decide what ship goes to Jacksonville for cruises starting April 23. 
Cruises from Mobile that were planned for the Carnival Sensation from Oct. 15, 2022, through Sept. 30, 2023, have been canceled. Carnival said it would announce a new operating plan for Mobile cruises at a later date.
Due to the continued uncertainty of cruising in Australia, Carnival is canceling planned operations of the Carnival Splendor from June 10, 2022, through Sept. 26, 2022, and the Carnival Spirit from June 5, 2022, to Oct. 5, 2023.
Source: Read Full Article