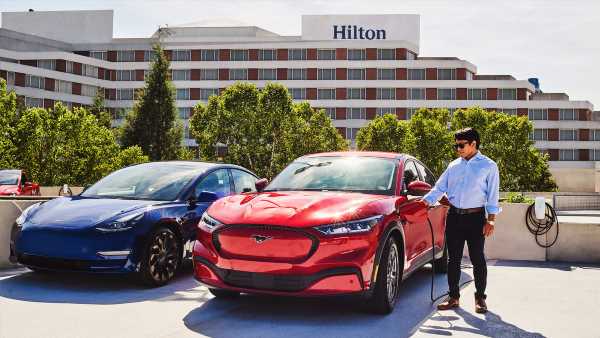 Electric vehicle charging stations have become increasingly prevalent at hotels over the past decade but are still far from being an industrywide standard.
That is changing. As a growing number of U.S. drivers embrace electric vehicles, and car rental companies add them to their fleets, hotel companies appear ready to make EV charger installation a priority.
Earlier this month, Hilton made waves when it revealed plans to install up to 20,000 Tesla Universal Wall Connector chargers at 2,000 hotels in the U.S., Canada and Mexico next year. The chargers will be compatible not just with Tesla vehicles but with any North American EV model.
Each participating hotel will receive a minimum of six level-two chargers, a move that the company said will make "Hilton's planned EV charging network the largest of any hospitality company."
Currently, Hilton has EV chargers available at more than 1,850 hotels worldwide, about 80% of them located in North America. 
Matt Schuyler, chief brand officer for Hilton, said the company's latest EV rollout is designed "to proactively address the growing guest need for EV charging stations." He cited data showing that year to date, Hilton.com's EV charging search filter jumped from fourth to second place when it comes to converting searches to stays.
"This initiative [will] position Hilton as the first choice for the dramatically increasing number of travelers who drive EVs," said Schuyler.
Hilton's move makes it the latest major hospitality player striving to keep pace with rising EV demand. 
Last year, Marriott International said it had developed a program to "accelerate the installation and adoption of electric vehicle charging across the globe."
As of year-end 2022, Marriott reported that more than 5,500 EV chargers had been installed at Marriott properties worldwide, including 1,700 level-three fast chargers.
Industry experts across both the hospitality and EV sectors view Hilton's EV charging expansion as particularly prescient. 
"We've seen an increasing number of trips being made by car as well as an increase in the adoption of EV cars," said Nicolas Graf, associate dean of NYU School of Professional Studies Jonathan M. Tisch Center of Hospitality. "And I think it will be very similar to the adoption of WiFi. Hotel owners gradually understand that there are new things customers expect to have, and it becomes part of the cost of doing business. It's going to become commonplace at some point."
Steve LeVine, editor of The Electric, an electric vehicle and battery online publication and offshoot of tech media platform The Information, called Hilton's push "notable," highlighting its significance amid the present inadequacies of EV charging infrastructure in the U.S. Despite an affinity for EVs, LeVine said he still refuses to rent one when traveling, citing the uncertainties tied to locating charging stations in unfamiliar destinations.
"The reputation is that there isn't a robust charging [network] and that it isn't reliable," LeVine said, adding that common EV-related consumer complaints involve "nonworking chargers, vandalized chargers or a charger where some jerk has parked a vehicle and left."
As a result, execution will be a key factor in the hotel industry's wider adoption of EV chargers.
"It's not good enough to just install them," LeVine said. "Because if there's something wrong with them, it's going to hurt the reputation of the hotel. And they have to not only maintain them but also let guests know that they're maintaining them."
According to Schuyler, upkeep of the Hilton portfolio's Tesla Universal Wall Connectors will generally be handled by Tesla, and "for infrequent times that guests have a challenge, Tesla has a support line for customers."
LeVine remains optimistic about the potential for U.S. hotels to establish themselves as reliable charging hubs.
"If you knew that that hotel had six chargers and that they were actually available and working, I think that that would absolutely help change people's perceptions," LeVine said. "And I do think that hotels may end up being one of the leading edges in EVs gaining broader public acceptance."
Source: Read Full Article