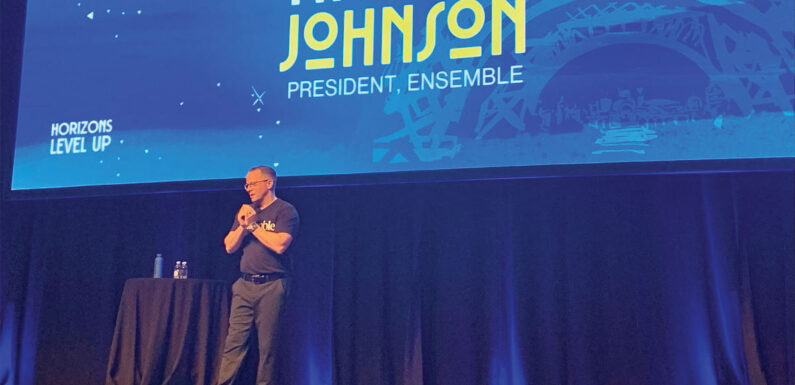 LAS VEGAS — "People make travel better."
That is a fundamental pillar for Ensemble, president Michael Johnson said Thursday during the consortium's 2023 Horizons conference at the Paris Las Vegas Hotel & Casino here.
But, he conceded, many people don't believe that.
"In fact, there are thousands of people working right now to disprove that theory, betting that a machine can book travel faster and cheaper than anyone in this room," he said. "And you know what? They're right."
As an example, Johnson showed a video of ChatGPT, the generative AI technology, putting together a three-day itinerary for a family visiting Paris for the first time. The itinerary was available within seconds.
"There it is," he said. "It's not perfect, but it's learning 24/7."
• Related: Ensemble partners with Jamaica Tourist Board
Soon, Johnson said, generative AI will include the ability to book, receive payment and distribute travel documents to consumers. Its end goal: to make booking travel both cheaper and easier.
"It is without emotion, and it is relentless," he said. "It's kind of depressing."
But, Johnson posited, technology like generative AI has brought opportunity to the travel agency community. That opportunity lies in the value proposition that travel advisors offer.
"What I can tell you is that there is immense power in the combination of expertise and empathy," he said. "That combination has value."
And the technology is also useful to agents. Ensemble will soon employ it to help advisors generate content for their websites.
Time means quality
Johnson pointed out that only about half of the advisors in the room at Horizons were charging a fee for their services. Those who sell travel on the premise of price or convenience are vulnerable to the threat posed by generative AI, he said.
At the same time, consumers who believe advisors can't compete with computers are betting that time is their weakness, he said. Generative AI is extremely fast at spitting out an itinerary and will likely be just as fast at booking one soon. But he argued that advisors should reconsider what "time" means with regard to their services.
• Related: Google AI adds new capabilities in travel planning
"Time can also mean quality and care," he said. "Time is not your biggest weakness. In fact, it's one of your strengths. It's the time you put into your craft, developing your expertise and building your business. Getting to know your clients, building relationships with partners."
That time, he said, isn't something technology can replicate.
Indeed, he called travel advisors' jobs "a combination of art and science that turns a trip into an experience."
Johnson encouraged the advisors at Horizons to take the time and opportunity offered to further hone their craft, keeping themselves a step ahead of generative AI and other disruptive technologies.
• More of AI and travel: Expedia and Booking are putting AI through its paces
Source: Read Full Article