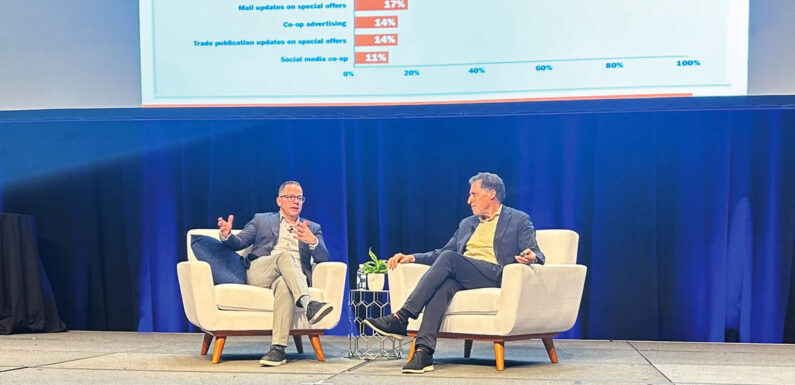 LAS VEGAS — Who is the average travel advisor today?
Arnie Weissmann, Travel Weekly's editor in chief, gave Ensemble members some insight into that question Saturday at the Paris Las Vegas Hotel & Casino.
During the consortium's Horizons 2023 event, he offered a sneak peek of Travel Weekly's annual Travel Industry Survey, which will be published in full on Nov. 20.
Eighty percent of advisors are women and 57% are older than 55. Both are long-term trends, Weissmann said.
But something has changed recently — the number of longtime advisors in the industry.
In 2021, 46% of survey respondents had been in the industry for more than 30 years. That number dropped to 16% in 2023, meaning nearly one-third of experienced agents have exited the industry.
At the same time, Weissmann said, newer entrants are finding travel. In 2021, only 5% reported being in business for two years or less; that percentage stands at 19% this year.
"A lot of people saw opportunity in being a travel advisor during the pandemic, which is kind of amazing," Weissmann said.
He also shared some statistics about advisors' clients: 72% are over the age of 40, and 55% have an income exceeding $100,000.
"Consumers who use travel advisors take more trips per year, take longer trips and spend more money each day," Weissmann said. "So you're in the right place, and this is why suppliers love the travel advisor channel."
Clients want to work with advisors because of personal relationships as well as their level of customer service and expertise.
"This," Weissmann said, "is where you have a huge advantage over the OTAs."
But, Weissmann said the survey also revealed a more "depressing" statistic — 39% of advisors make less than $25,000 per year. The number of lower earners skews higher in correlation with their experience: 80% of advisors in business for two years or less reported an income below $25,000.
While only 20% of advisors reported an income of less than $25,000 after 11 to 20 years in business, "It takes too long to get to where you need to be," Weissmann said.
Ensemble president Michael Johnson was also on stage. That statistic "rattled me to my core," he said.
The consortium is working to make the profession more profitable in a shorter amount of time, Johnson said, and the Travel Industry Survey highlights how big the problem is.
"It's unacceptable that it takes 11 years for someone to earn an average income," Johnson said.
But on the flip side, 15% of advisors make $200,000 or more, Weissmann said.
Advisors are an optimistic bunch. When it comes to the future, 78% of advisors said their expectations are positive, 20% said they were neutral and only 2% negative.
"We are in the right business," Weissmann said.
Source: Read Full Article