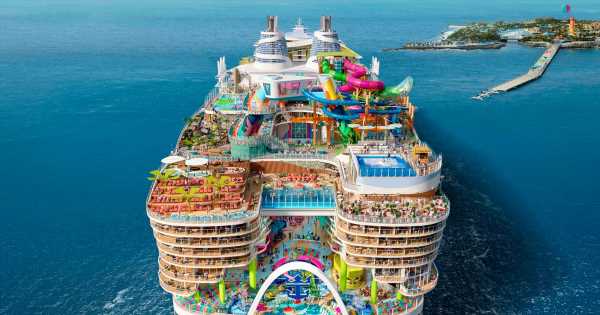 Bookmark
Get the best travel tips, advice and holiday deals
Thank you for subscribing!
Get the best travel tips, advice and holiday deals
We have more newsletters
A cruise ship that will be five times the size of the Titanic is preparing to set sail next year, and passengers can expect some ridiculously cool entertainment on board.
Royal Caribbean's Icon of the Seas will become the world's biggest cruise ship when she sails in January 2024, taking the title from one of the cruise line's other ships, Wonder of the Seas.
With the ability to hold over 5,000 passengers it will be the size of a small town, and there'll be heaps to keep everyone entertained on board.
READ MORE: Cruise expert warns of dress code rule passengers can expect on nearly all ships
Want the biggest cruise tips, deals and news straight to your inbox? Sign up to our Anchors Away newsletter here – you'll find it in the 'Lifestyle' section.
One of the biggest highlights is sure to be the world's largest at sea waterpark, named Category 6, which will feature SIX record-breaking water slides, including one of the fastest at sea, epic near-vertical drops, and the first family-raft slide at sea. If you want to unwind after all of the adrenaline then you'll have plenty of choice thanks to the seven pools (think everything from family-friendly waters to infinity pools) and nine whirlpools.
The ship's so big that it's been divided into EIGHT neighbourhoods across 20 decks, including the stay-all-day neighbourhood Surfside for families, which boasts an an aquapark, grown-ups' pool, snack bars and loungers. (For those travelling without kids, there will also be plenty of adults-only areas on the ship!).
Other particularly exciting features include a Sky Walk, where guests can be harnessed in and walk before the floor suddenly disappears and leaves them strolling above above the ocean. It definitely won't be one for the faint-hearted!
'Rich sugar daddies pay to take me on lavish holidays – I've made £400k'
For those who prefer to stay on the deck, there'll be heaps of restaurants, shows under the Aqua Dome's waterfall, and an ice rink. Or if you fancy a go, there's the company's surf simulator, FlowRider, where you can have a go at surfing on the top deck, surrounded by views in the middle of the ocean.
While bookings have already been open for the ship, Royal Caribbean this week announced it was opening further bookings for 2025-2026 three months earlier than planned.
That includes a host of seven-night adventures from Miami around the Caribbean, complete with visits to the cruise line's private island of course.
The move comes after the company says it saw the single largest booking day and highest volume booking week in its history when Icon was first revealed in October 2022.
You can find out more and book on royalcaribbean.com.
Source: Read Full Article