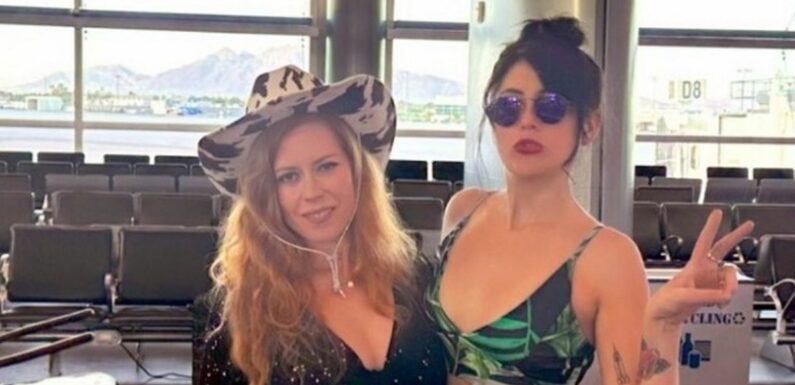 A pair of friends from the US were baffled after they were reportedly "dress-coded" at the airport.
Comedians Chrissie Mayrus and Keanu Thompson were humiliated during the ordeal which saw their clothes labelled as inappropriate.
The pair were told they had to change their trousers before they would be allowed to fly the plane. But, in a strange turn of events the replacement clothes they were asked to don were actually more revealing than their own outfits.
READ MORE: Outfits that got banned from flights – from crop tops to 'naked' fashion
Chrissie and Keanu had chosen to dress in similar sets. Both wore crop tops with Chrissie's outfit being a black and glittery trouser set with a long sleeved wrap top.
Keanu's sleeveless crop top and maxi skirt outfit had a tropical leaf print and a split up to the thigh. They say they were approached by American Airlines staff at Harry Reid International Airport in Las Vegas and asked to change. But, oddly, when asked to change they were told to wear skimpy hot pants instead…
It seems that short shorts are a-OK while flowing bottoms are not! Chrissie tweeted: "Omfg an @AmericanAir employee forced me and @keanuCthompson to change our pants before getting on the flight which actually turned out to be MORE REVEALING. THIS IS NO WAY TO TREAT A REWARDS MEMBER."
In a follow up tweet Chrissie claimed: "LITERALLY HAD TO CHANGE AT THE GATE WITH NO COVER. He had Chrissie in underwear and me butt f**king naked from my waist down at the gate…. How is this okay?"
The comedian also claims that it was "a man" who stopped them from boarding and said: "I wish he had told us we could go into the bathroom or at least behind the desk to change. Or hold up a towel or something…!"
American Airlines states that as part of its "conditions of carriage, all customers must dress appropriately and offensive clothing isn't permitted on board our flights". However, responding to Chrissie on Twitter, they said: "Your comments concern us. Please join us in DMs, we're here and ready to listen."
Her followers could make no sense of being asked to change in front of other people – nor of why they were re-dressed in shorts. One person called the situation "outrageous" while another said: "I don't understand…They were full length skirts!
"You looked beautiful, but I didn't know it was a crime to be beautiful…"Another said: "I just find this so unreasonable that it's hard to believe actually happened." A third added: "So the tops were acceptable… but the more covered leg half was the objectionable bit?"
Woman, 23, stopped from getting on flight as top 'shows too much skin'
It's not the first time someone has been dress-coded before boarding a flight. Last year, a woman claimed she was told to change her shoulder-less corset on a flight as it could have been "offensive" to other passengers.
Jacy posted a video to share her experience flying out of Sacramento, California on a Southwest Airlines flight on Monday (July 11). She said she was told the airline is a "family company" and that "some people" may find it "offensive".
Meanwhile, in 2021, an OnlyFans model and Instagram influencer said she was "shamed and humiliated" after a flight attendant told her to cover up. Isabelle Eleanore was wearing blue jeans and a low-cut black crop top on the Jetstar plane to Melbourne.
She was reportedly told to cover up as she was given a hi-vis vest to wear.On Twitter, Isabelle said: "This is ridiculous… I was humiliated, degraded and discriminated against."
READ NEXT:
Fitness guru told to 'buy a shirt' and says she was 'body shamed' over Disneyland outfit

Model claims she was stopped from boarding flight as outfit made her look 'naked'

Woman 'completely humiliated' as flight attendant comments on 'low cut' outfit

'Humiliated' mum says she was almost kicked off flight due to 'revealing' outfit
Source: Read Full Article