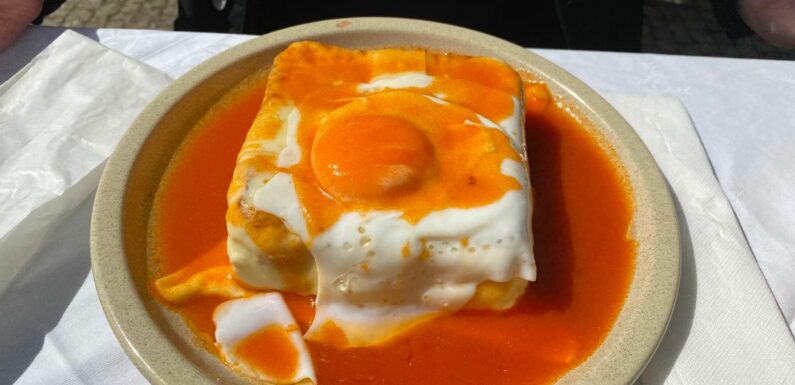 Earlier this year, I decided to book the cheapest flight I could find on the UK's "worst airline", which took me to Porto, Portugal.
This gorgeous city built around a river and the area's famous six bridges, as well as heaps of fun tours and attractions.
But, one thing that stood out in Porto was the food. It's everywhere and the portions are huge. (Not to mention the city is home to the world's most beautiful McDonalds).
READ MORE: 'I booked £12 flight on Europe's worst airline to see if it's worth the cheap tickets'
However, there's one sandwich that we spotted on the menu at almost every cafe and restaurant we passed – so my boyfriend and I decided to try to tackle it.
Francesinha is a hefty dish that would not be out of place on British menus. It looks delicious – like a croque madame crossed with a cheese toastie or a full British fry up.
The francesinha is a Portuguese speciality made with white sandwich bread, stuffed with cured ham, sausages, roast meat, linguiça (a smoked sausage) and an entire steak.
The absolute meat feast sarnie is then covered in melted mild cheese, a fried egg and slathered in a bright orange tomato and beer sauce.
Plus, every time you're running low on sauce the wait staff will run over to spoon ladle after ladle of beer sauce over the dish.
The number of calories in a francesinha varies by recipe, but it's estimated to sit between 1500 and 2500 per sandwich.
A lot of this is down to the sheer amount of meat packed into every layer of the dish – throw in butter, fried eggs, cheese and lashings of beer and it's no wonder than many estimates put the count at around 2,000.
NutritionX is more conservative with its estimate of 1130 calories – but every extra ladle of sauce adds a whopping extra count of around 380kcals thanks to beer, brandy and flour.
For context, the NHS website says that generally, the recommended daily calorie intake is 2,000 calories a day for women and 2,500 for men. It also puts a 'healthier' four-cheese pizza at a total of 728 calories – meaning that the average francesinha can have nearly three pizzas' worth.
While the stats can make this sandwich off-putting it's also awfully close to a Full English fry up in bread – so my partner Adam Williams, 28, and I decided to give it a whirl.
Adam said: "It kind of reminded me of a kids' dinner, but, the sauce was much more complex and interesting than I thought it would be.‌
"From the look I thought it would be like a baked bean sauce, but it wasn't. The egg and cheese added to it – it needed the creaminess of the cheese and yolk to cut through the meat.‌
"It made perfect sense that it used white sandwich bread because it was like a croque monsieur. I also loved that they brought more sauce whenever you wanted it."
However, Adam – who eats a generally vegetarian diet – quickly found himself outfaced by the massive sarnie.
He explained: "I kept finding new meats – I kind of thought 'when will it stop' – I thought it was just ham at the start. Imagine a Wetherspoons mixed grill in a sandwich. Or maybe a fry up plus steak…
"Steak being in it was unnecessary to me – good steak should be eaten on its own. I was stuffed and I couldn't finish it."
In fact, Adam's favourite part of the meal turned out to be the incredible sauce. Every restaurant in Portugal that serves the francesinha will have their own recipe. Most include beer and tomatoes, but some also add chicken stock, brandy and cornflour.
Adam commented: "I liked having chips on the side because they were great to dip on the sauce, but the entire thing all together was too much food. I'm not surprised at the amount of calories – it's not an every day dish. Maybe once a year."
Due to the size of the dish – which is deceptively filling despite looking like a simple toastie – we decided to split it and share. Personally, I agreed that the sauce was the showstopper of the meal and could see it being a successful addition in UK restaurants.
The egg was completely necessary as splitting the yolk and having it spill all over the bread and mixing with the sauce was divine. I think the francesinha would be great if you used just ham or bacon and sausage – the steak was overdone and added a chunky, heavy extra layer, but obviously it wouldn't do to change a traditional dish.
I enjoyed the francesinha, but probably wouldn't order it again as it was just too big.
But, any Brits with a big appetite, a love for meat and beer may just find it's their new favourite dish – it would do a roaring trade in party towns like Benidorm and Magaluf in my opinion.
We ate at the Restaurante Provas on the riverside in Porto which was a lovely place to catch some sun.
Plane passenger 'disgusted' as bloke scoffs rack of BBQ ribs mid-flight
I also ordered the seafood bread soup which was far more my style – huge prawns, squid and fish mixed with a similar tomato base to the francesinha and bread that became a delicious mush.
Again, I'd recommend sharing it though as Porto's portions are enormous.
Considering the calories in the francesinha it's probably best that we shared it, especially as we still left half the steak and the bread crusts – but, I imagine it would be a cracking hangover food.
READ NEXT:
Mum went on 8 holidays with flights from £16 – and always got back in time for work

Worst airlines for flight delays from UK airports ranked – from Wizz Air to Tui

Flight attendant says you should book front seats in economy for the best food

Flight attendants reveal why they try and avoid 'unhealthy' plane food
Source: Read Full Article