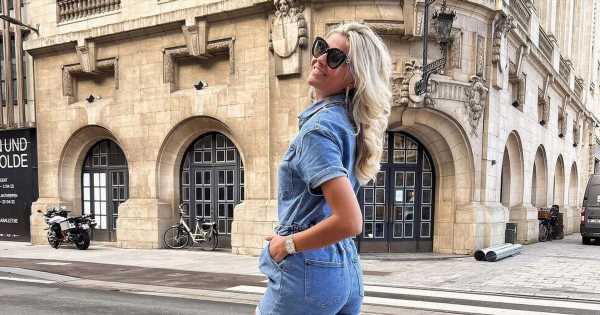 Frequent flyers may feel they know everything there is to know about planes from why you shouldn't go barefoot to the safest seats in the air. But, one flight attendant has revealed her secrets that may surprise you – from what she eats and where she sleeps to checking for hidden cameras in hotels!
Esther Sturrus, 22, has been working as cabin crew since 2019 – a tricky time to start in the airline industry. The pretty blonde stewardess has been employed by both TUI and KLM and she's learnt a lot along the way.
READ MORE: Flight crew share 'hidden' bedroom spaces on planes that passengers can't enter
As travelling all over the world is a major part of the job Esther often finds herself checking into hotels to sleep for the night between flights. It's not always the safest situation for a lone traveller so there's one thing Ester always does: check for hidden cameras.
In a TikTok which has gone viral with 3.7 million views and 480,000 likes, Esther explained how she thoroughly checks her room to ensure she has privacy. She captioned the video: "What I first do when I come into my hotel room now: check for hidden cameras."
In the clip, Esther begins by checking the mirrors in her bathroom by pressing on the glass to see if she notices any disturbances, reflected lights or bending. Cameras will sometimes be stored behind mirrors to spy on those using the room.
Esther also checks the shower and the fire alarm edges with her phone torch looking for any lenses or lights. She also looks all around the room at curtains, drawers and her TV to ensure nobody is trying to spy on her.
It may seem dramatic, but a number of nations including South Korea have documented mounting cases of hidden camera use in rental apartments and hotels. TikTok posters flocked to Esther's comments to share their reactions, tips and advice.
Bryce commented: "Turn the lights off and point a flashlight at the clock to see cameras too." Mia wrote: "Try looking in the vents." while Cesara said: "Great tip wow!"
"Imma need this when I go on my trip, appreciate it," said someone else while one said: "Trust issues." "Shine your phone on the pictures," said Tracy. She indicated that photo frames can sometimes be used to disguise devices too.
"Check under the bed, one of my cousins flight attendant friends found a dead body underneath," added Abby. Luckily Esther has never found a hidden camera, but continues to look just in case.
"Fortunately, KLM also arranges very good hotels for its staff, so I don't think it is very common," Esther, from Rotterdam, the Netherlands, told NeedToKnow.co.uk "I saw quite often on TikTok that people found hidden cameras.
"It was often in AirBnbs, or somewhat 'worse' hotels. I thought it would be fun to also make content about this and make people aware that this can happen.
"The main downside of spy cameras has to be the fact that they invade the privacy of our rooms and it becomes very unpleasant to do even the simple things in the comfort of our rooms.
"Another big con is the fact that wireless signals can be intercepted and there is no legal protection to prevent this from taking place. While it is very unlikely that you truly have anything to worry about when it comes to hidden cameras, you can always do your own inspection for peace of mind."
Esther has also shared some places she checks the most:
Alarm clocks and clock radio's.
Smoke detectors
Lamps and lights
Mirrors
Thermostats
Esther also shared what it is like eating and sleeping as a flight attendant The job can involve early rising, long hours and disrupted sleeping and eating patterns.
She added: "We eat the exact same food and drink as passengers at times! If there is any left. I also usually pack light snacks like hummus and apples, but the most important thing is to drink a lot of water to keep hydrated.
"Also a good thing is that not many people know that we sleep on board. On all long haul flights, cabin crew and pilots will take a break. There is a crew rest area for us above the luggage compartments which is just a flat bed with a pillow and curtain. It's not all that glamorous, but we love it!"
Many flight attendants even avoid the food on planes because they consider it "unhealthy" which doesn't help you stay in shape.
Previously, Love Island star Lucinda Strafford explained that there are strict uniform rules when working for an airline. She even claims that when you put on weight it's not looked upon favourably.
The gorgeous influencer said: "I did find the uniform requirements very strict. I felt it was frowned upon if you had to go up a size, so you just tried your best to keep the same uniform you'd always have.
"It's SO hard to maintain your weight when working as cabin crew as you're always surrounded by food and you eat at unusual hours because you need the energy. When you land you never want to work out because you're so tired.
"I know it's a usual thing to put on weight when working as cabin crew. I remember when I started people would say you won't stay that skinny forever!"
READ NEXT:
Flight attendants reveal passenger's worst habits including asking for water

Flight attendant exposes type of passenger she hates – as 'they need manners'


Flight attendant says she never upgrades passengers – apart from one exception

How to get free upgrades on flights – flight attendants share their best secrets
Source: Read Full Article