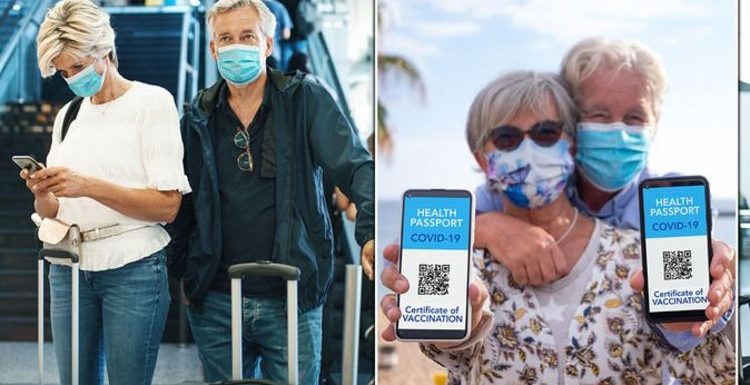 Covid: Travellers recall 'stressful' process of pre-travel tests
We use your sign-up to provide content in ways you've consented to and to improve our understanding of you. This may include adverts from us and 3rd parties based on our understanding. You can unsubscribe at any time. More info
The COVID-19 Omicron variant has sparked more chaos for the travel industry and those who had plans to jet off in the coming weeks. At the time of writing, 13 nations have banned UK arrivals from entering their borders, unless they meet specific exemptions listed by individual Governments.
Other nations have ramped up border restrictions, ranging from vaccine requirements to new testing rules.
Yet, with many people looking to reunite with family or enjoy a festive vacation, the news may come as a blow.
So, where can Britons currently travel to?
The easiest way to navigate this question is by looking at the nations which have currently banned UK arrivals.
These include:
Australia
Bhutan
China
Falkland Islands
Indonesia
Israel
Japan
Laos
New Zealand
Suriname
Malaysia
Taiwan
Vietnam
DON'T MISS
Travel red list scrapped- PCR tests to stay [REPORT]
Spain: Citizenship test handbook full of errors [INSIGHT]
Expats: The 10 best countries for 'sun-seeking' Brits to retire [LIST]
In some cases, just tourists are banned from entering but legal residents and citizens can still return to the country. These include Australia, Falkland Islands, Indonesia, Israel, Japan and Malaysia.
In other cases, such as with China, flights from the UK are suspended entirely.
Elsewhere in the world, UK arrivals are still able to travel but must meet the specific requirements set out by international governments.
Spain, for example, is now only allowing fully-vaccinated arrivals to enter the country.
According to the Foreign, Commonwealth and Development Office (FCDO), people travelling for tourism "must show proof of being fully vaccinated (with both doses of a two-dose vaccine or one dose of a one-dose vaccine) at least 14 days prior to arrival in Spain (date(s) of vaccination must be specified)."
Spain accepts the NHS evidence of vaccination, but also requires travellers to fill in a Spanish health control form prior to arrival.
France, on the other hand, requires all arrivals from the UK to show proof of a negative COVID-10 test result (either PCR or antigen) before departure.
This rule is in place regardless of vaccination.
The US, which only recently reopened its borders to Britons after over a year of closures, is still allowing UK arrivals to enter the country.
Travellers must be fully vaccinated and will be required to show a negative COVID-19 test result taken no more than one day before travel regardless of vaccination status.
Britons are advised to check the travel restrictions of their specific destination before departing.
The FCDO adds that UK passengers should be "prepared for plans to change".
Despite travel restrictions ramping up elsewhere, in the UK they have relaxed somewhat in recent days with the removal of all 11 nations from the "red list".
However, arrivals into the UK are still required to pay for testing.
Joss Croft, CEO, UKinbound said: "We are pleased that all 11 countries are to be removed from the red list, however the UK testing requirements for vaccinated international arrivals continue to stifle businesses across the inbound tourism industry, which employs over 500,000 Britons.
"The health secretary acknowledged that there is community transmission of Omicron in the UK, that it is fast becoming the dominant variant and that the justification for our travel restrictions are minimal.
"This negates the need for PCR testing and sequencing.
"The Government needs to further act on these comments and immediately scrap day two PCR tests and quarantine on arrival."
Source: Read Full Article