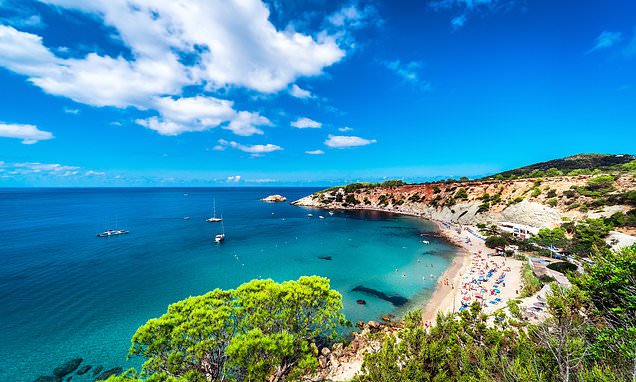 From snorkelling in Cala Conta to running marathons in the sun: Here are just a few reasons why fitness fanatics will fall in love with Ibiza
Ad Feature by Jet2.com
Exchange hedonism for healthy living and discover why Ibiza is the ideal retreat for a wholesome holiday…
For sun, sea, snorkelling, sailing and more, Ibiza is the destination of dreams
This boho Balearic island has long captured the imagination of travellers. The hippies arrived in the Seventies and declared it heaven on Earth, and today holidaymakers flock to explore idyllic beaches and stunning scenery.
From hiking trails and pristine hidden coves all the way through to snorkelling adventures, mountain biking and sun-splashed marathons, the White Isle promises Balearic bliss for every type of traveller.
And if you travel with award-winning Jet2.com, you know you'll be getting a great value flight at a convenient time. Fly direct to Ibiza with Jet2.com from ten UK airports. In England, you can jet out of Leeds Bradford, Manchester or Newcastle, Bristol, London Stansted, East Midlands or Birmingham. Ibiza flights also depart from both Glasgow and Edinburgh in Scotland and Belfast International in Northern Ireland.
With departures from seven UK airports – from Leeds Bradford, Manchester, Newcastle, and Bristol to London Stansted, East Midlands and Birmingham – it's easy to hop over to the famous Balearic Island.
With 10kg of hand luggage included in the price of your flight, as well as the friendliest service in the skies, you can see why Jet2.com was named Tripadvisor's Best UK Airline and a Which? Recommended Travel Provider.
Life's a beach
The sugary white sands of Cala Llenya beach are irresistible to anyone hoping for lazy beach days – or even for a spot of diving
When you touch down on the White Isle, you'll probably have already glimpsed its most dazzling attributes from the sky. More than 80 beaches fringe Ibiza, lapped by clear waters in varying shades of lapis lazuli and aquamarine.
There are wide bays of sugary sands and romantic coves, family-friendly beaches and hidden spots best reached by boat. Then there are those dazzling sunsets, best enjoyed with your toes in the sand as the sky is painted orange, pink and red.
The glorious white sands and calm waters of Cala Bassa, on the west coast, make it perfect for splashing around with the family, while across the island, the sweep of Es Cana, near the beach town of Santa Eulalia, is the ideal spot to grab a pedalo and head out to explore.
On the quiet north coast, you'll have to hike through a forest of fragrant pines to reach the pretty cove of Es Portixol, while the powdery sands of Ses Salines have become a favourite spot for the fashionable set. Cala Pada is the perfect back-to-nature spot, while Sol D'en Serra is hugged by pine-clad cliffs and can feel like a natural swimming pool.
Don't miss the sunsets at bohemian Benirras, or the views from Cala d'Hort looking across to Es Vedra, the pyramid-shaped rock off the south-west coast which legend says is one of the most magnetic points in the world.
Make a splash
Ibiza's Cala Mastella Santa Eulalia is a fantastic place to explore the island's abundant marine life
With so much coastline to explore, you'll want to make sure you do it in style, whether that is paddling past soaring cliffs in a kayak or enjoying a sunrise excursion on a stand-up paddle board.
Dive into the warm waters and discover the amazing marine life just below the surface on a scuba diving or snorkelling trip. With fantastic visibility, Cala Conta is a great place to start your underwater adventure, along with little Cala Gracio and Ses Salines, which is part of the Els Freus Marine Reserve. You could spot anything from squid and octopus to barracudas, conger eels and even seahorses.
Don't miss the chance to try windsurfing or kitesurfing. Or perhaps you'd rather navigate a yacht or catamaran? Each April sailing fans descend on Ibiza for the annual La Ruta de la Sal regatta, which makes for a spectacular sight just off the coast.
Then there are the jetskis, flyboards and parasailing excursions, which are ideal for thrillseekers. Or you can opt for a more sedate beach experience, perhaps some sunrise yoga on the sands or even a spot of SUP yoga, practicing your asanas on a stand-up paddleboard in the water.
Head for dry land
Whatever you get up to on land, Ibiza's stunning coastline is never far away. Cycle around its main city then out to the beaches for seaviews while you explore
If you can tear yourself away from the stunning coastline, Ibiza's interior beckons. Here you'll find rolling countryside dotted with almond and fig trees, ancient olive groves and picturesque villages – perfect for exploring on two wheels.
The whole island is threaded with trails, from relaxed to more challenging routes. And if you take your cycling seriously, the international bike race Vuelta a Ibiza takes place at the end of each October when the island is still bathed in warm sunshine.
If you'd rather take in Ibiza's natural landscapes on two feet, simply pull on your walking boots and make for one of the many hiking trails. Would you prefer undulating countryside and village stop-offs for lunch? Or perhaps you'd rather dramatic sea views from craggy clifftops. Ibiza has it all.
If speed is more your thing, sign up for the Ibiza marathon, which takes place each April in glorious sunny, spring weather. The course will take you from the Unesco-listed Ibiza old town through the countryside to the beautiful beaches of the east coast before finishing in Santa Eulalia.
You'll find plenty of other challenges throughout the year too, from trail running competitions to coastal runs and shorter events that welcome the whole family.
Then there is the golf, with courses set in lush valleys or offering stunning sea views. Tee off in the early morning and enjoy the complete calm and natural beauty of this Balearic Isle.
Fly in style
Ensure your Ibiza holiday begins the moment you step on the plane with Jet2.com. 
They offer great flight times, friendly service and amazing value. Take advantage of the included 10kg hand luggage included in the price of your ticket and buy a few more souvenirs at the hippy markets. And if for any reason you need to cancel your trip, Jet2.com makes it easy and smooth process to claim your refund. It's the best way to jet in to Ibiza for a holiday of Balearic bliss.
To find out more and book your flight, click here. 
Source: Read Full Article