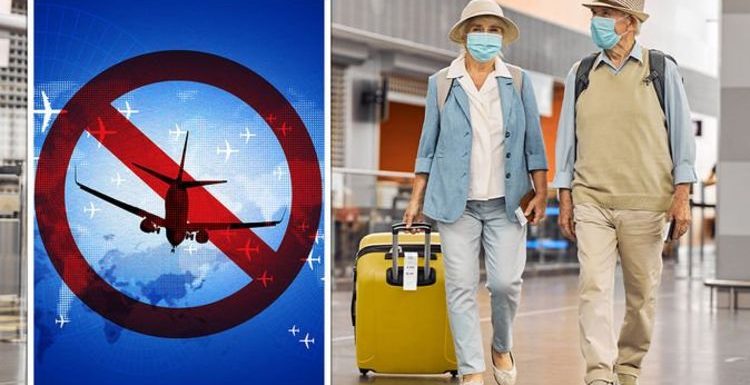 UK travel: Changes to departure testing outlined by Dixon
We use your sign-up to provide content in ways you've consented to and to improve our understanding of you. This may include adverts from us and 3rd parties based on our understanding. You can unsubscribe at any time. More info
In the wake of the devastating Omicron variant, countries across the world have tightened their travel restrictions. The UK has reported 633 cases of the Omicron variant today, bringing to the total number to 5,346. There are 519 cases in England, 110 in Scotland, two in Wales and two in Northern Ireland.
The variant, which is said to be more resistant to vaccines, saw Prime Minister Boris Johnson introduce more stringent restrictions in the move to "Plan B" last Wednesday.
The new restrictions have been put in place to help reduce the spread of the new variant.
Accelerating Omicron cases has led to 13 countries now enforcing measures to ban UK travellers from entering the country.
These are the 13 countries that are currently banning Britons, according to Foreign, Commonwealth, and Development Office (FCDO):
Australia
Australia has had strict travel restrictions in place since early 2020 and has only recently relaxed some of its rules.
Entry to Australia is only available if you are exempt or have been granted an individual exemption.
Those who are exempt include Australian citizens, permanent residents of Australia, and immediate family members of Australian citizens or permanent residents.
Bhutan
Bhutan is currently closed to all foreign nationals, including Britons.
The Royal Government of Bhutan has not yet specified when the country will re-open to foreign visitors.
DON'T MISS
Expats: The 10 best countries for 'sun-seeking' Brits to retire [INSIGHT]
British expat life in Lisbon – 'warm and friendly' [UPDATE]
Travel red list scrapped- PCR tests to stay [ANALYSIS]
China
China has suspended all flights from the UK.
No date has been announced on whether these measures will change but they are subject to review.
Entry from third countries is still possible.
Falkland Islands
Tourists are not permitted to visit the Falkland Islands.
Indonesia
Tourist visas are not currently available for British nationals.
Israel
Non-Israeli citizens cannot enter the country unless they have a special entry permit from a dedicated "Exceptions Committee".
Japan
All foreign nationals who do not have existing resident status cannot enter Japan for any purpose, other than in exceptional circumstances.
These rules have been in place since November 30, 2021.
Laos
The Government of the Lao PDR has suspended the visa on arrival service at all international entry points.
No visas are currently being issued to people travelling from a country with cases of coronavirus.
New Zealand
New Zealand's borders remain locked down to almost all arrivals.
Travellers may be able to travel to the country under exceptional circumstances.
Suriname
This country's international borders remain closed.
Malaysia
Britons are prohibited from entering Malaysia, however, some exemptions may apply.
Some of these include: British nationals with permanent resident status, resident pass, My Second Home Programme (MM2H) pass, expatriates of all categories, including professional visit passes as well as dependants pass, spouse to Malaysian nationals (spouse visa), and students and temporary employment passes.
Taiwan
The Government has put a temporary ban in place on foreign nationals entering the country.
Vietnam
Vietnam has suspended visa waivers and has stopped issuing visas.
Entry into Vietnam has also been suspended for all foreign nationals apart from a few exemptions.
Source: Read Full Article