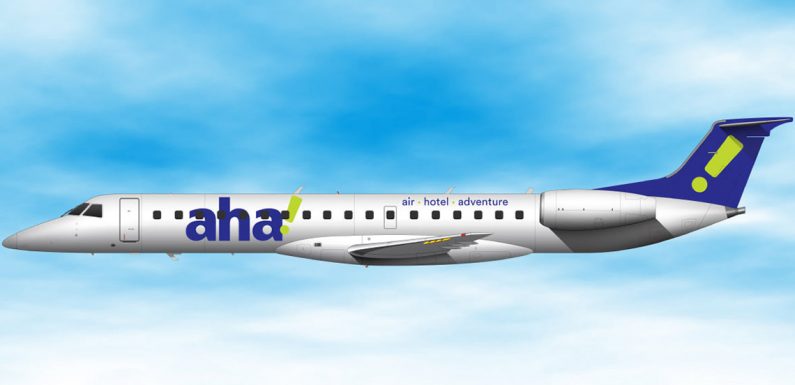 Regional airline ExpressJet will resume service next month, launching its new leisure brand Aha! as it does so. 
The name, the company explained, is short for "air-hotel adventure," a nod to plans for Aha! to offer value-priced leisure packages. 
ExpressJet will base Aha! in Reno, Nevada. Operations begin Oct. 24 with thrice-weekly service to Washington state's Tri-Cities region of Pasco, Kennewick and Richland.
By Nov. 10, Aha! will also begin thrice-weekly routes from Reno to seven other West Coast destinations that don't currently have service to the Nevada city, including Bakersfield, Eureka, Fresno and Ontario in California and Eugene, Medford and Redmond/Bend in Oregon. 
ExpressJet said Aha! will reach 20 more cities from Reno in the coming months, all on a fleet of 50-seat Embraer ERJ-145 aircraft.
The launch will come just over a year after ExpressJet went into a period of dormancy following the loss of its contract to fly regional United Express routes.
The company said that Aha! will soon partner with resorts, casinos and attractions to bundle value-priced vacation packages.
Source: Read Full Article