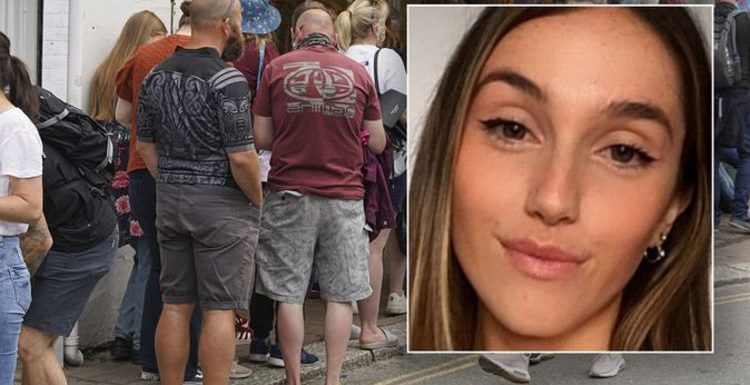 Cornwall: Kim Conchie says there is a 'perfect storm' in county
We use your sign-up to provide content in ways you've consented to and to improve our understanding of you. This may include adverts from us and 3rd parties based on our understanding. You can unsubscribe at any time. More info
Emily Gimblett, 20, is a waitress in Newquay, Cornwall, and said this summer has seen her sworn at and reduced to tears by an angry customer. The young hospitality worker also said she had never seen the restaurant she works in – the Quintrell Inn – so busy.
Emily described crying after dealing with a "moody" customer.
She said: "She was really, really moody and I just cried.
"I had already been reduced to nothing that day… It's like a lose-lose situation.
"I have never seen it this busy, it is ridiculous… The amount of staff we have can't cope with the influx."
Speaking to the BBC, Emily continued: "What you say to someone can ruin their whole day. We're still a person… We're tired."
The owner of the Quintrell Inn, Steve Young, also spoke to the BBC and confirmed it was the "busiest ever season" in his eight years working there.
Sadly, he said abuse has "gone up an octave" – with both locals and tourists being "difficult".
He described how "a vile group of blokes came in and one just flipped out and tried to attack me when I told them we couldn't fit them in".
DON'T MISS:
'Ridiculous' passport rule sees 'grief stricken' widower turned away from Spain flight
'A bit of escapism!' Man travels by 14 local buses from London to Lancashire in just a day
Best UK staycation location to avoid 'busy' Cornwall and Devon
The problem is not just in Cornwall, with hospitality staff across the UK sharing similar tales of horror.
It has got so bad that UK Hospitality has "urged all customers to treat staff with respect".
According to a report by Yorkshire Live, staff at Heathfield Farm Dining and Carvery in Birkenshaw were subjected to abuse after telling customers they aren't open for breakfast – leading to the customers to shout and swear at their front door.
In a strong statement, the restaurant said: "What we will NOT tolerate is guests coming to our door shouting and swearing at our team because we are short-staffed and can not open for breakfast.
"We are doing everything we can to look after our team here at Heathfield Farm like we always have and when times are even harder and some of our team are struggling with their mental health we do not need our team being yelled at for reasons beyond their control.
"So please can we just ask… be kind. You don't see behind closed doors, words hurt."
For those looking for a location not packed to the brim with tourists, a travel influencer has shared some hidden gems in the UK to try.
Alex Outhwaite told Express.co.uk her UK staycation gem, and said: "The Yorkshire Wolds are maybe going to be added to the Areas of Outstanding Natural Beauty.
"I think it's been 25 years since they added a new place to the list."
The UK's Areas of Outstanding Natural Beauty (AONBs) are locations boasting stunning views and countryside activities.
There are currently 46 in the UK, including the Malvern Hills, East Devon, and the Cotswolds.
Alex continued: "It's quite a big thing for the Yorkshire Wolds. They are so, so beautiful. The hills and valleys, it's absolutely stunning."
Source: Read Full Article