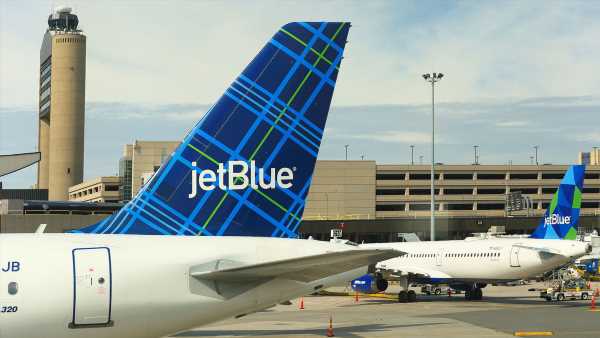 JetBlue and American will end codeshare bookings and reciprocal loyalty benefits on July 21 as they begin the formal wind-down of their Northeast Alliance (NEA) in Boston and the New York area. 
"We know customers will miss these features and believe the U.S. Department of Justice's position opposing them misses the mark," Dave Fintzen, JetBlue's vice president for the Northeast Alliance, said in a Friday announcement. "With the court's recent ruling and the termination of the NEA, we have to sunset them in short order."
Members of American's AAdvantage and JetBlue's TruBlue loyalty programs can continue to accrue and redeem loyalty points on either carrier for bookings made through July 20. Individuals holding existing bookings can also add loyalty numbers up until that time.
The carriers will stop selling codeshare flights on July 21. But bookings made up to that time won't be impacted. 
"This is just the first step in the wind-down process that will take place over the coming months," American said. "We will continue to work with the JetBlue team to ensure customers who have existing codeshare bookings can travel seamlessly without disruption to their travel plans."
Court ordered end of Northeast Alliance
The commencement of the NEA wind-down follows JetBlue's July 5 announcement that it had initiated the termination of the alliance and would not appeal the May federal court ruling ordering its disbandment. Court documents show that the alliance will officially be terminated on July 29.
Under the Northeast Alliance, American and JetBlue had been jointly scheduling flights and splitting revenue on most of their operations out of Boston Logan, Newark, LaGuardia and JFK.
JetBlue and American had asked the court to allow their codesharing and reciprocal loyalty program to continue, even if they had to halt further-reaching elements of the NEA, such as coordinated scheduling. The Justice Department has opposed that request. The matter is still scheduled to be debated in a final judgment hearing on July 26, though Friday's announcement raised questions about the continued relevance of that hearing. 
American has also said that it plans to appeal the May 19 ruling striking down the alliance.
Source: Read Full Article