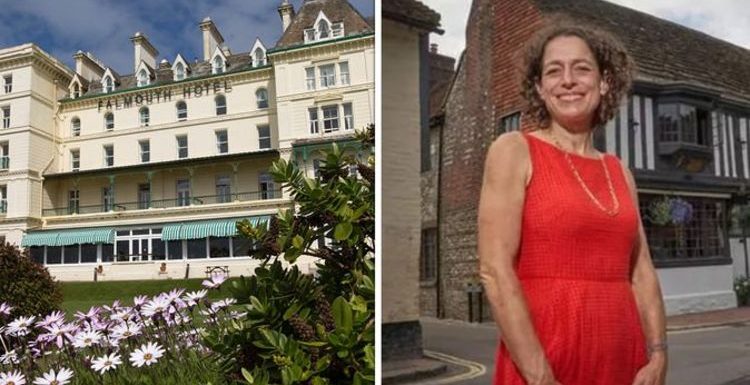 The Hotel Inspector: Alex Polizzi discusses filming before Covid
We use your sign-up to provide content in ways you've consented to and to improve our understanding of you. This may include adverts from us and 3rd parties based on our understanding. You can unsubscribe at any time. More info
After years of telling people how to run a hotel on Channel 5, now Alex Polizzi has decided to open her own. But will she succeed at it?
Alex Polizzi is a well-known hospitality expert but she has now decided to open her own hotel for the first time.
Her mum Olga is the owner of two luxury hotels in Cornwall, which she helps managing.
In 2019, Alex and her mother bought The Star Hotel, a 37-bedroom medieval inn located in East Sussex.
It all started as a six-month project but soon became a real struggle as the pair faced unexpected challenges and spiralling costs.
In today's episode, Alex supervises the renovation work at The Star to discover the builders are running far behind.
Fearing they won't be able to open in the summer, Alex and Olga decide to move the opening to Easter.
This enables the couple to start the next round of renovations, which will totally transform the bedrooms in the middle of the hotel.
They will demolish the internal wall between the existing 10 rooms and create seven larger bedrooms.
DON'T MISS
The fastest pop up tents for a hassle-free staycation this summer [REVIEW]
Spain holiday rules: The important rules you MUST follow [ADVICE]
Green list update: When is the next traffic light travel review? [INSIGHT]
They also wanted to create two luxury suites by the front of the hotel, for which they would require special building regulations.
However, the pair are trying to speed up the construction work while dealing with complaints from the neighbours.
The Star cost Alex and her mum £2 million.
However, Olga explained: "To get 30 rooms in East Sussex in a very pretty village, gosh this is a bargain for just over £2million."
Alex runs her other luxury hotels in Cornwall, which she had to inspect before the opening.
When entering a beautifully decorated room, Alex said: "They have to be taking the piss."
She looked very concerned as she made another member of the staff call the housekeeper.
"I'm doing a room check and I see this," said Alex pointing at a lamp. "Two lamps can't be placed facing each other," she yelled.
She continued: "Who on earth would position a TV to the left of a chest of drawers. It's just obvious."
The presenter explained that due to an illness, her mum can't supervise the hotels which is leaving her "in agony."
"Cornwall depends on the tourism, everything has to be perfect for when we open," she said.
She was also horrified about a coffee table being positioned in front of the drawers instead of under the window. "Crazy."
Source: Read Full Article