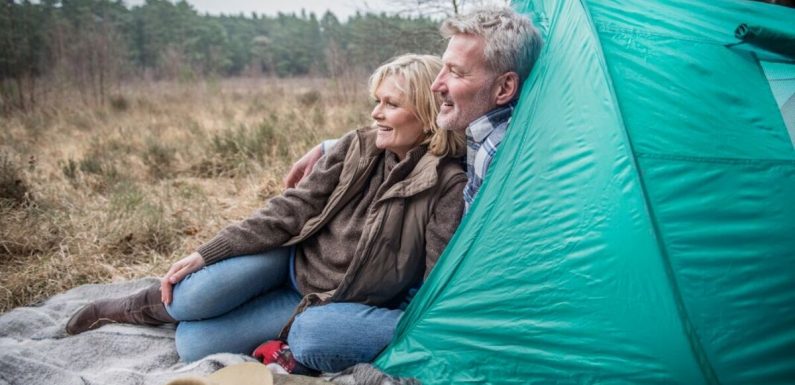 We use your sign-up to provide content in ways you've consented to and to improve our understanding of you. This may include adverts from us and 3rd parties based on our understanding. You can unsubscribe at any time. More info
The camping experts at GO Outdoors have ranked the best UK destinations for a romantic camping trip. Many of the top spots are perfect for a Valentine's Day break.
UK's best camping destinations
Hadrian's Wall
Somerset
Cambridgeshire
Isle of Skye
Gloucestershire
Swansea
Carmarthenshire
Norfolk
Suffolk
Conwy
The UK's best camping destination is Hadrian's Wall, located near the border between England and Scotland.
Almost a quarter of campsites in this region feature hot tubs, making it the perfect spot for a Valentine's Day break.
A GO Outdoors spokesperson said: "It also has a variety of adult-only campsites, for example, The Larches Caravan Park, which is home to beautiful landscapes and is fully serviced with water, waste and electricity."
Hadrian's Wall is one of the UK's most incredible World Heritage sites and celebrated its 1,900 year anniversary in 2022.
Somerset took second place on the list and according to GoOutdoors, around 15 percent of campsites in the area have hot tubs.
The spokesperson said: "Somerset, known for its rolling hills, sandy beaches and stunning areas of natural beauty, ranks second."
Tourists could explore Wells Cathedral, get to grips with history at Glastonbury Abbey or investigate Wookey Hole Caves.
Campers could also take a trip to the coast or combine their holiday with a romantic city break in Bristol.
Cambridgeshire was third on the list and is ranked as one of the most popular places to camp in the country.
Almost three quarters of campsites in the region are described as "peaceful" while over 15 percent have hot tubs.
Nearly half of Somerset's campsites are open year-round while there's also a lot of adult only options.
Tourists could explore Cambridge on a day out and marvel at the university's Botanic Garden or check out Ely Cathedral.
Scotland's Isle of Skye took fourth place in the rankings and could be the perfect spot for couples looking to get off the grid.
The enchanting island is one of the UK's best places to spot wildlife and is also home to the Fairy Pools, the perfect proposal spot.
Gloucestershire rounded off the top five while Swansea topped the list of romantic camping destinations in Wales.
Just over 15 percent of campsites in Swansea are adult only although only 26 percent are open year round.
Source: Read Full Article