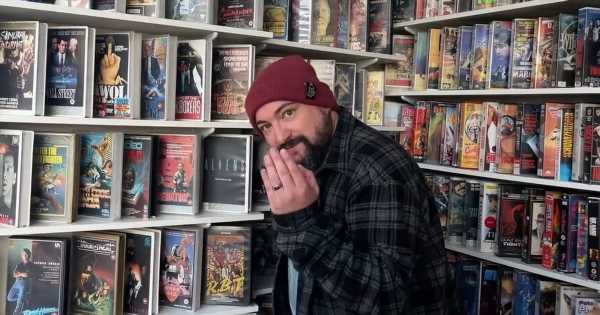 We Brits love novelty whether it's an unusual theme park pop up or an out-of-this-world hotel or bar.
Now, it seems that hospitality workers are thinking outside of the box to create special experiences for anyone in need of some entertainment.
Pals Nathan Birkinshaw and Noel Roberts have done just that with their new venture RBT Video.
READ MORE: Wild hotels built into old airplanes with beds in cockpit – stays from £101
Based in Wakefield you may feel like you've gone back in time when you spot the front of this little VHS video shop.
Yes, we said video shop – but not all is as it seems.
Rather than being a blast of the past, this tiny store actually has a hidden secret… there's a fully fledged speakeasy inside.
Guests who come into the shop will have to tell Nathan, the manager, the video of the month before the shelves are swung open to reveal the bar inside.
The duo came up with the idea during lockdown while looking at old video tapes in the attic.
Nathan told Daily Star: "We couldn't open the other two bars we had and we had a bit of a drunken conversation about if we could create a speakeasy.
"It was sort of like we were in prohibition, nobody could go out, nobody could do anything.
"So it was almost like a cheeky idea of doing a speakeasy, but in a different way and something that we're very much interested in is movies and TV shows."
Instead of the traditional 1920s speakeasy, Nathan and Noel decided to make the venue 1980s themed.
The gateway to the fun is filled with throwback films and tapes.
Nathan added: "We found a reasonably cheap property to rent off off of landlords which was an empty shell.
"We got it all done in about four weeks, using local local businesses to help."
The pair, plus other workers, all grew up in Wakefield working in pubs from the age of 16, but found themselves flocking back to the area and eventually creating the bar.
Now, RBT video is a raging success – and very popular according to the manager.
Noel added: "It's been really popular and really really funny.
"A lot of people walk past and go… a VHS shop in Wakefield?
"They think we're that behind, but it's a bit of fun and then after you've got the password right the secondary secret door opens.
"The hock and horror and the amazement is just really, really nice. It's like seeing kids at Disneyland sometimes."
To find out the password you can check RBT Video's Instagram and website for hints – and there are plenty of clues in the shop too.
Don't be worried if you can't find it as Nathan added: "We never turn people away. We'll help them choose the movie that they want to rent…"
Once you descend into the speakeasy there's even more fun to be had with the unusual drinks and cocktails on offer.
Nathan noted: "With it being an '80s bar the drinks are about opulence and fun – they're a bit quirky.
"I always go for one of the Coco Pops which uses a tiny self serve cereal and we make a groovy smoothie with that."
The music in the bar varies with lots of great 1980s hits as well as varied tunes from the DJs when the event calls for a change.
There's also a comedy club once a month and from April 1 live music will be playing in the outside space behind the bar.
RBT Video also throws fun summer events with themes from Ghostbusters to Rocky Horror Picture Show.
Plus, there are live gigs and sometimes mini music festivals.
Nathan commented: "It was just a fun project that we did two years ago, we didn't think would be half as popular as it is now."
Check out more information, find out the password and book a table at rbtvideo.com
READ NEXT:
Cost of half-term staycation soars by up to 50% in popular UK destinations

Inside the UK's most amazing holiday homes from castles to seaside cottages

Cornwall tourism boss slams 'bloody tourists' who 'don't want to be there'

Inside Edinburgh's 'worst rated' hotel – from dodgy stains to wiry hair in the room
Source: Read Full Article