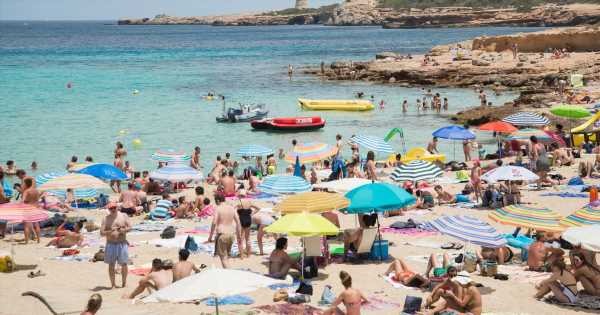 Now that Christmas is over and we're into the new year many Brits are looking ahead and wanting to book a holiday.
While summer is a while away there's plenty of time to get a half-term break nailed down or to be on-the-ball for the hottest months of the year.
Plus, those who don't want to splash the cash in 2023 are on the lookout for bargains.
READ MORE: Three important travel rules to know for 2023 – including new EU entry fee
Luckily, January is a great month for finding holiday deals – and easyJet has launched a huge sale.
You can snap up flights for cheaper than a meal out in the sale and there's a bit of everything from beach destinations to city breaks.
There are 117 destinations available in the sale just from London Gatwick, while those heading out from Manchester can pick from 71 options.
Anyone jetting off from Edinburgh can pick from 42 destinations.
The cheapest flight we found was £16.49 – a trip from Newcastle to Belfast.
But, there are plenty more around the £16 to £17 mark to further flung locations.
Holidaymakers going from London Gatwick could head to gorgeous Venice, in Italy, for just £16.99 – though if you go later in the year beware that Venice is introducing an entry fee for tourists.
If you're willing to pay £17.99 you could jet off to Athens, Barcelona, Milan, Sicily, Copenhagen, Bordeaux, Madeira, Cyprus or even Rome from London Gatwick. Plus, Geneva, Lisbon, ibiza, Madrid, Porto and Lyon for the same price.
At the higher end of the sale's price range are a number of flights to further away.
You can jet from London Gatwick to Sharm El Sheikh, in Egypt, for just £88.64.
Alternatively, fly to Aqaba, in Jordan, a port city on the Red Sea for £93.99.
Tickets to Tel Aviv, in Israel are priced at £89.99 while Antalya, Turkey, flights cost just £38.99.
In March you could even visit Lapland, "official" residence of Santa Claus, by flying to Rovaniemi, Finland, for £33.99.
Those who want to spot the Northern Lights should snap up the deal quickly!
You can find hundreds of other flight offers on the easyJet.com website.
Always check the latest gov.uk advice on travel before booking or flying to your destination to ensure you comply with all conditions of entry.
READ NEXT:
Get 2023 holidays to Spain, Portugal, Turkey and Greece from £14pp per night

Lastminute.com currently has Malta and Cyprus holidays from £95 – including flights

TUI has a huge sale on holidays from £236pp including Greece, Spain and Portugal

Ryanair selling summer flights to Spain, Greece, Italy, Portugal and more from £13.99
Source: Read Full Article