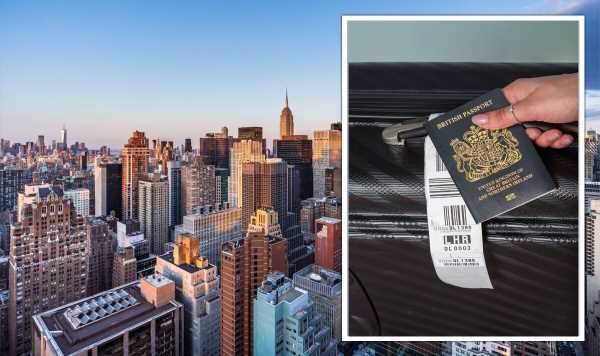 Rip Off Britain: Simon Calder issues advice about passports
We use your sign-up to provide content in ways you've consented to and to improve our understanding of you. This may include adverts from us and 3rd parties based on our understanding. You can unsubscribe at any time. More info
ParkSleepFly looked at the cost of passports around the world and each passport's power to find the best value documents. A powerful passport allows people to travel to more countries without a visa.
The UK ranked as the world's 14th worst value passport while the UAE had the best value document.
Worst value passports
Liechtenstein
San Marino
Mexico
Canada
Chile
Australia
Barbados
Romania
Japan
Norway
Cyprus
USA
Brazil
UK
Greece
Best value passports
UAE
Sweden
South Korea
Spain
Luxembourg
Hungary
Slovakia
Austria
Latvia
Germany
Portugal
Belgium
Italy
Singapore
Bulgaria
A standard UK passport costs £75.50 online and £85 with a paper application. Frequent travellers who need more pages are charged £85.50 online.
UK citizens can visit 108 countries without a visa while 48 require them to have a visa on arrival.
France had the world's most expensive passport, costing a whopping £233.87 for a new document.
The UAE's passport costs just £10.35 while nationals can travel to 110 countries without a visa.
A spokesperson from ParkSleepFly said: "The UAE Ministry of Foreign Affairs and International Cooperation stated in 2017 that it wanted the UAE's passport to be one of the strongest in the world by 2021 and it seems that they achieved this aim!"
Sweden also had a reasonably priced passport, costing just £32.38 for the document which allows travel to 115 countries without a visa.
South Korea's passport was also ranked as good value, costing just over £33 with visa free access to 114 countries.
At the other end of the scale, the tiny nation of Liechtenstein had the world's worst value passport.
A Liechtenstein passport costs just under £205 but does allow holders to travel to a high number of countries.
British nationals have recently faced huge issues trying to renew their passports due to a heavy backlog.
Many Britons didn't renew their passports during the pandemic which has led to a rush since restrictions ended.
Britons are advised that applications could take as long as 10 weeks to process while some people have waited longer.
Source: Read Full Article