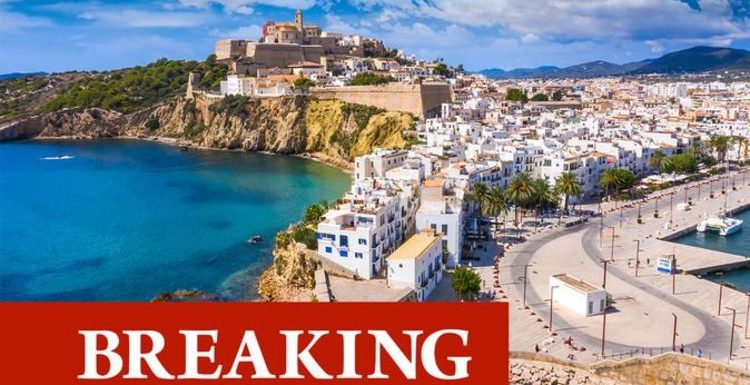 Spain announce travel ban for UK flights amid coronavirus strain
Spain holidays were dealt yet another blow as Ibiza announced today its borders are closing. The news comes as the island in the Balearics battles with Covid. There are concerns Ibiza has hit the "most critical moment of the coronavirus pandemic."
President of the Balearic government, Francina Armengol, today signed a decree that restricts the entry and exit of people.
Exceptional reasons permit travel including medical, work, education or to return home among others.
The measures will last until January 30.
Councillor for the presidency of the Balearic executive, Pilar Costa, said Ibiza was experiencing a "critical moment, perhaps the worst of the entire pandemic.
We will use your email address only for sending you newsletters. Please see our Privacy Notice for details of your data protection rights.
Costa added: "Experience allows for a more efficient response, from a social and sanitary point of view."
Ibiza currently has a cumulative incidence at 14 days of 1,970 cases per 100,000 inhabitants, the highest yet.
On December 24, the level was 158.9 cases/100,000.
Costa warned: "We have not yet reached the highest peak but it seems that we are close to it."
Controls are being stepped up at the port and airport to try to stop the escalation of covid infections.
Ibiza's president, Vicent Marí said the perimeter closure of the island was an "expected announcement" given the "complicated and difficult" situation.
The alert is also being raised on the neighbouring island of Formentera which goes to level four.
Its border has also been closed, the curfew brought forward to 10pm and the interior of bars and restaurants closed.
The coronavirus level on the island has more than tripled since the beginning of January, particularly in people over the age of 65.
Formentera's president, Alejandra Ferrer called for the "responsibility" of citizens to minimise contacts and has called for vaccinations to be speeded up in a bid to kickstart tourism when possible.
Today's figures show Ibiza and Formentera have registered a total of 381 positives, of which 366 have been in Ibiza and 15 in Formentera.
Yesterday, Canaries hotspot Lanzarote announced it was closing its borders over rising cases of Covid.
The Canary government says the island, including neighbouring islet La Graciosa, will rise to alert level four starting at midnight on Saturday due to the "seriousness" of coronavirus cases on the island and especially the "speed" in the transmission of infections.
Public health chiefs say the coronavirus level at seven days has multiplied 25-fold in just over three weeks and has exceeded the threshold of what is considered a "very high risk".
A week ago, Lanzarote went from alert level two to level three, as a consequence of the increase in cases after the Christmas holidays, before now entering level four.
In the last 14 days, Lanzarote registered 698.67 cases per 100,000 inhabitants.
As of Thursday, the island recorded two deaths and 77 new cases, bringing its total to 2,820, of which 948 are still active
Additional reporting by Rita Sobot
Source: Read Full Article