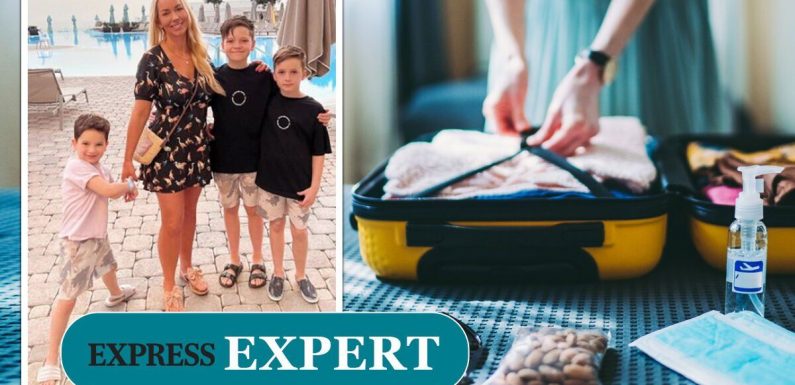 We use your sign-up to provide content in ways you've consented to and to improve our understanding of you. This may include adverts from us and 3rd parties based on our understanding. You can unsubscribe at any time. More info
A mother of three has shared how she manages to stay on top of her packing while on her family holidays. Packing for a family of five is no mean feat. It takes some skill and know-how, and Emily Norris shared her travel advice with Express.co.uk.
Emily is a mother of three and a Youtuber, with an enormous 762,000 subscribers on her Youtube account and over 150k on Instagram. She told readers why she always takes laundry bags on holiday.
Often, it's not possible or too expensive to get your laundry done on holiday.
In this case, holidaymakers are left with the question – what do I do with my dirty laundry? You don't want to keep it loose in the case or next to your lovely clean clothes.
"When we go on a package holiday with no laundry facilities, I take two thin mesh laundry bags," the mum explained.
She went on: "One for lights and one for darks. This makes doing laundry for the family so much easier when you get home!"
View this post on Instagram

A post shared by Emily Norris (@mrsemilynorris)
So keep your holiday wardrobe fresh and get a headstart on the laundry when you get home with laundry bags.
Besides laundry bags, Emily had a number of other clever tips. One includes combatting the age-old question, "how do I pack my sunhat without it getting squashed?"
Emily said: "Sun hats are so easily squashed inside suitcases.
"To avoid this, pack the head of your sun hat tightly with clothes so that it keeps its shape."
DON'T MISS
'Common sense' luggage 'hack' to speed through airport security [EXPERT]
Cornwall spot named as England's best beach but where are the others? [FULL LIST]
Flight attendant says 'swimming in trainers' is 'life-changing' [TIP]
What about the fiddly things to pack, like beauty products and jewellery?
Emily said: "Mini products are cute but they are more expensive and not great for the environment, especially when you're packing for the whole family.
"Decant your and your family's favourite products into mini reusable containers so that you can travel with everything you need."
"Jewellery can be a tricky thing to pack," Emily went on.
Flight attendant shares tips for packing like a pro
"A great hack is to store your jewellery in a hard sunglasses case or a pill organiser box to separate them and thread necklaces through straws to keep them from tangling."
And as for how to pack, Emily had a hack for this too.
"Sort out your and your family's heaviest items so you can pack them at the bottom of your suitcases," she said.
"This will help to distribute the weight, making it easier to pull and stopping it from falling over!"
Two other packing experts told Express.co.uk a clever packing tip to prevent you rummaging through your suitcase.
Yaya and Lloyd met at university. Their combined passion for travel led them on a journey around the world running their travel blog, Hand Luggage Only, together.
"Block pack instead of layered packing," the paid suggested. "Don't just pack all of one item (eg t-shirts) all along the base of the suitcase.
"Fill up your luggage in blocks. This stops you from rummaging through your suitcase when on the road."
Source: Read Full Article