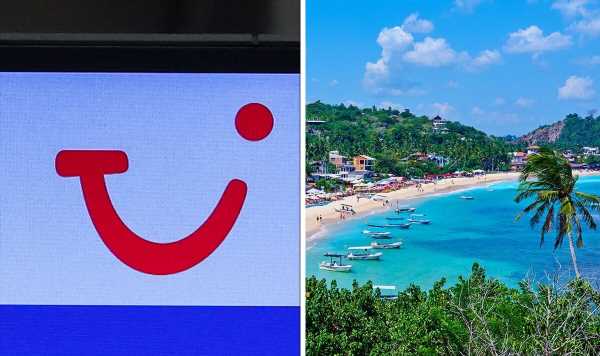 Martin Lewis reveals best cards for travel abroad
We use your sign-up to provide content in ways you've consented to and to improve our understanding of you. This may include adverts from us and 3rd parties based on our understanding. You can unsubscribe at any time. More info
The airline has cancelled more flights to Sri Lanka following several incidents of violence against peaceful protesters in the country. This means it is dangerous for Britons to travel there.
On May 9, the Sri Lankan authorities attacked groups of peaceful protesters in various regions of the country, including the Galle Face area in Colombo.
The police used tear gas and water cannons against the protesters.
Other parts of the country where this happened included the Beira Lake in Colombo, Kandy, where many holidaymakers visit.
The violence resulted in injuries and even deaths.
This meant TUI was forced to cancel all holidays to Sri Lanka earlier this month.
The airline has now extended the cancellations by two weeks due to the ongoing political and economic unrest.
TUI announced that it won't be restarting holidays to the country until the second week of June.
The company said in a statement: "We've unfortunately had to cancel all holidays to Sri Lanka departing up to and including 12 June 2022."
A spokesperson added: "We will be proactively contacting all impacted customers in departure date order to discuss their options.
"Please note this advice does not apply to customers transiting through Sri Lanka's international airport, and customers currently in resort can continue to enjoy their holiday as planned.
"We will continue to monitor the situation and update customers should there be any further updates."
The Government's Foreign, Commonwealth & Development Office said that a State of Emergency had been declared in Sri Lanka, but although it has now been lifted, curfews may still be imposed at short notice in parts of the country.
The Government updated its advice on travel to Sri Lanka today.
It said on its website: "The Foreign, Commonwealth & Development Office (FCDO) advises against all but essential travel to Sri Lanka, due to ongoing political and economic instability.
"This advice does not apply to airside transit through Sri Lanka's international airport.
"A State of Emergency in Sri Lanka has been lifted, however some military presence remains on the streets. Curfews may be imposed at short notice."
It added that there have been several protests in Sri Lanka since March 31 this year because of rising food prices and fuel shortages.
"The economic situation is deteriorating in Sri Lanka with shortages of basic necessities including medicines, cooking gas, fuel and food because of a shortage of hard currency to pay for imports," the Government said.
It continued: "There may be long queues at shops and supermarkets, fuel stations, and pharmacies.
"There may be difficulties or delays obtaining taxis and other public transport. There are ongoing daily power cuts due to electricity rationing."
The Government also stated how the recent attacks on protests had resulted in "injuries and loss of life".
"Further incidents could take place," it added.
Source: Read Full Article