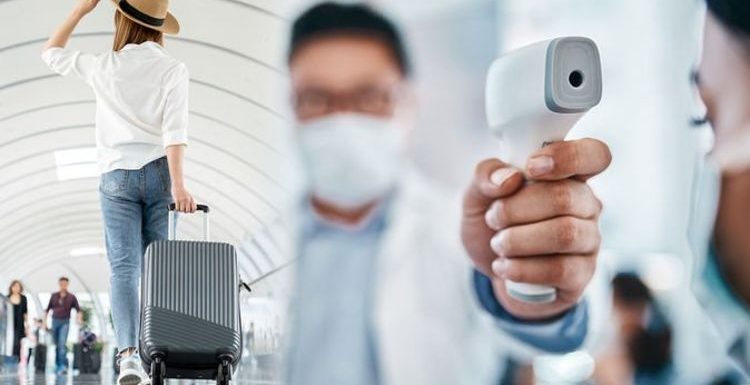 Holidays: Simon Calder gives 2021 travel advice
The latest national lockdown has seen a plethora of rules come back into force. Next week, a new testing rule could come into force which will see arrivals into the UK asked to take a test up to 72 hours before their arrival. CEO of travel consultancy, The PC Agency, Paul Charles claimed on Twitter this evening that all international arrivals into the UK could be asked to provide proof of a negative covid test.
Mr Charles revealed: "I understand, from next Thursday, all international arrivals into the #UK will need to show proof of a negative test taken up to 72hrs before.
"Airlines/Eurostar/ferries to check proof before departure or will refuse entry.
"£500 fine for anyone not complying."
The restrictions are likely to further hinder the travel industry which has been heavily impacted by the coronavirus pandemic.
The government is yet to officially make an announcement about the new testing rules.
We will use your email address only for sending you newsletters. Please see our Privacy Notice for details of your data protection rights.
Mr Charles' post was immediately inundated with comments from concerned travellers.
One user asked whether it would include UK residents.
The travel expert confirmed UK residents would be included in the testing regime.
One user responded: "Well that's going to kill Easter/Summer holidays!
"Unless tests become cheaper most families won't be able to afford tests both outbound and inbound.
"What happens if my destination doesn't have easy access to tests? So many issues."
DON'T MISS
Passport: Most powerful passports in the world for 2021 unveiled [INSIGHT]
US travel: FCDO issues warning as 'disorder' hits Washington DC [UPDATE]
Pound to euro exchange rate: Sterling 'subdued' and 'under pressure' [ANALYSIS]
Another user said: "About time but an absolute catastrophic failure not doing this earlier."
"So, in summary, goodbye travel industry,", one user replied.
It's currently unclear whether the UK's current quarantine policy for high risk countries would continue along with the tests.
It comes as the UK government extended its travel restrictions on countries in the south of Africa from 4am January 9.
The urgent need to halt travel from all southern African nations is in response to a new strain of coronavirus identified in South Africa.
A government statement added this evening: "Entry into England will be banned to those who have travelled from or through any southern African country in the last 10 days, including Namibia, Zimbabwe, Botswana, Eswatini, Zambia, Malawi, Lesotho, Mozambique and Angola – as well as Seychelles and Mauritius.
"This does not include British and Irish Nationals, longer-term visa holders and permanent residents, who will be able to enter but are required to self-isolate for 10 days on arrival along with their household.
"The government has therefore also removed Botswana, Seychelles and Mauritius from the travel corridor list, with the changes coming into place from 4am on January 9 2021.
"The move, in addition to the travel ban imposed on South Africa on December 23 2020, follows new data on the steep rise in incidence of the new variant, that has vastly increased the risk of community transmission between nine other southern African countries as well as the Seychelles and Mauritius, which both have strong travel links with South Africa.
"Urgent restrictions are therefore now needed to prevent the spread of this strain in the UK.
"The measures will be in place for an initial period of two weeks while the scientific data and alternative ways to protect the UK and our partners in Africa are reviewed."
Ministers have also removed Israel and Jerusalem from the travel corridor list.
Currently, Britons are not allowed to travel abroad unless it is for an essential purpose.
Anyone caught breaching the rules could face a penalty starting at £200.
Source: Read Full Article