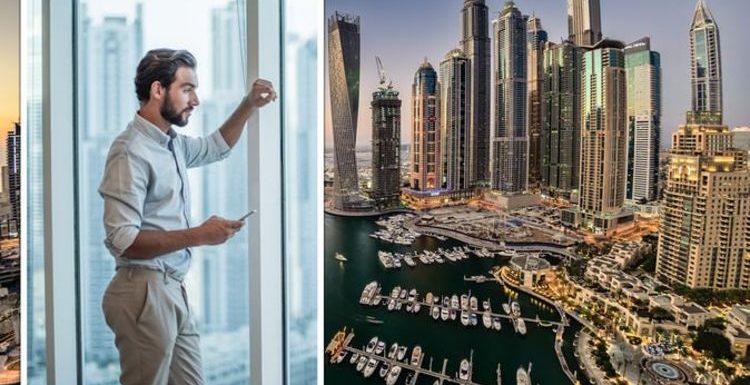 Dubai: UAE double moon phenomenon stuns onlookers
We use your sign-up to provide content in ways you've consented to and to improve our understanding of you. This may include adverts from us and 3rd parties based on our understanding. You can unsubscribe at any time. More info
Workers in the United Arab Emirates will have a shorter week from January 2022. And it's not the only change coming to the Emirates, with a change to weekend days too.
The national work week in the UAE is currently Sunday to Thursday.
But to align with the global markets and attract expats, the UAE Government is looking to make a change.
From January 2022, the work week will be Monday to Friday for Government employees.
The new work week will be four and a half days, with Friday ending at noon so that workers can go to prayers.
The Government said the new shorten week was intended to "boost work-life balance and enhance social wellbeing, while increasing performance to advance the UAE's economic competitiveness".
One of the reasons for the change to the work week is competition with Saudi Arabia.
Saudi Arabia is targeting some of the businesses traditionally thriving in the UAE.
While UAE officials said "competition is good" and "makes us strive", the latest string of social reforms may be seen as a bid to attract more foreigners and expats to the country.
The UAE's population is 90 percent foreign, and to keep these workers, the country has been modernising.
Unmarried couples can now cohabit and foreigners can now also own businesses without a national partner.
Other suggested reforms include the decriminalisation of homosexuality and the opening of casinos.
One senior businessman said: "The message being sent is clear: this is no longer an Islamic country, but an international country where all religions coexist."
And the work week shift is a strong indicator this statement could be true.
The new week will first apply to UAE federal entities.
But the Dubai Government has already announced it would follow suit.
And the Emirate's education regulator also announced the private education sector would adopt the new week.
It seems to be only a matter of time before the private sector makes the move too.
Friday sermon and prayers will start at 1.15pm across all seven Emirates from January.
The move was met with good humour on social media.
Local Realpappaya said: "Amazing move! It says we are international."
While former Dubai expat Bernie Debusmann, however, had a very important question: "As usual, nobody is asking the real questions: is this the end of that beloved UAE expat institution, the Friday brunch?"
And it seems he was not the only one to wonder what would happen to Friday brunch.
Ashleigh Stewart replied: "I think you'll find this is actually the number one question most people have asked."
User Adly wrote: "It's almost as if those in charge in the UAE meet, have discussions, and TRY to come up with ways to make both the locals and expats happier and more content. Baffling."
Source: Read Full Article