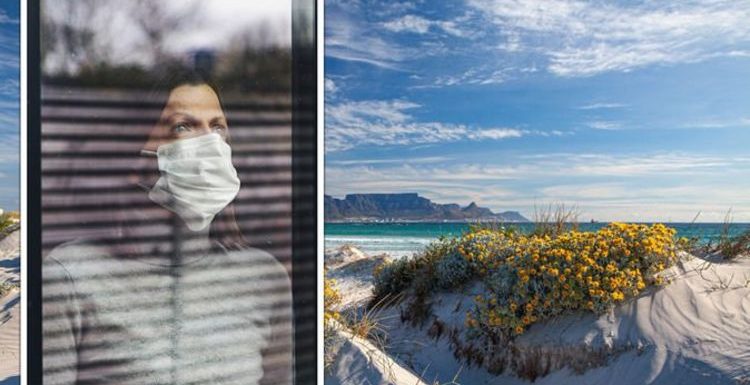 Travel: Simon Calder reveals quarantine 'loophole'
We use your sign-up to provide content in ways you've consented to and to improve our understanding of you. This may include adverts from us and 3rd parties based on our understanding. You can unsubscribe at any time. More info
There are currently 11 countries on the travel red list. And Britons coming back from these countries need to book a space in a quarantine hotel to come back to the UK.
The fast Government's reaction to the emergence of the Omicron Covid variant has left many Britons in limbo.
With the red list back in full force, many travellers were left stranded overseas.
Many Britons were overseas when the announcement was made to add countries to the red list.
The surge in demand for quarantine hotel rooms has outstripped the supply of quarantine beds.
A Facebook group for Britons stranded in South Africa has gathered hundreds of members, and Britons have been left frustrated at not being able to come home.
Karen Ferrar said: "We are effectively being held hostage here because of our Government's shambolic handling of all of this."
Alex Zachary wrote: "It's the worst feeling of helplessness mixed with anger and disbelief."
And Louis Theron said: "I've tried three options to get back to Edinburgh, flying Saturday 11. My latest attempt is flying from Johannesburg to Paris (CDG), remaining in transit with an onward flight to Edinburgh where I have a quarantine hotel booked and paid for.
"My final destination is Edinburgh and I have no requirement to fly to London where quarantine hotels are sold out.
"I spoke to MP office today who doesn't think this will work, but my travel agent thinks it will."
Booking a quarantine hotel seems to be the main issue for Britons stranded overseas.
Lauren Hopkins said: "Flights aren't an issue – it's getting a hotel quarantine booking that's keeping us all here.
"They haven't put nearly enough on for the amount of us.
"We've been trying since 28 November to get a booking, with no luck.
"At the moment, 13 December is the earliest availability, meaning we come out Christmas Day and have to fund an extra 11 nights in South Africa."
She continued: "To say I feel let down is a gross understatement.
"It's an utter disgrace."
Hotel quarantine is a requirement for coming back to the UK from a red list country, but rules have also changed for all travel.
New restrictions include a need for self-isolation and a PCR test when coming back to the UK from all destinations, except within the UK, Ireland, the Channel Islands or the Isle of Man.
And the new rules is adding a hundred of pounds to travel.
And the travel industry is reacting to the changes.
An ABTA statement said: "Travellers must also be supported with measures taken to offset the cost of these additional tests by reducing the cost of PCR testing – including a price cap and the removal of VAT.
"It's vitally important this decision is reversed as quickly as possible, in line with scientific and medical advice, as it is simply not possible for the travel industry to recover properly while this huge barrier to consumer confidence is in place."
A spokesperson for the Department for Health and Social Care said: "We are rapidly expanding our hotel capacity following our immediate and precautionary action against the omicron variant.
"We have doubled the number of hotel rooms available from Monday and will continue to increase availability on a daily basis."
Source: Read Full Article