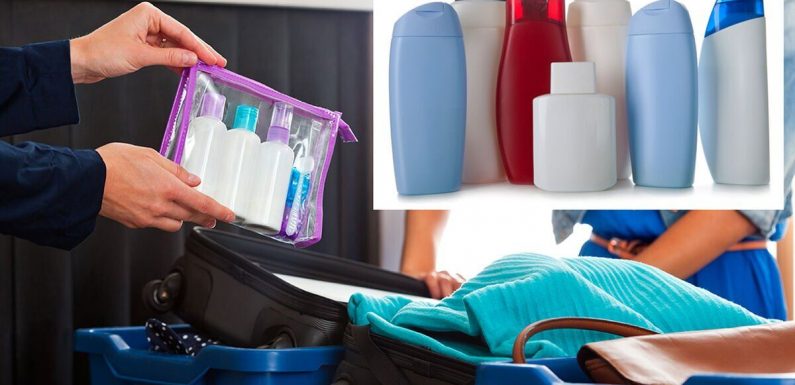 Travel hack: Expert reveals why you shouldn't use a neck pillow
We use your sign-up to provide content in ways you've consented to and to improve our understanding of you. This may include adverts from us and 3rd parties based on our understanding. You can unsubscribe at any time. More info
The 100ml liquid rule for hand luggage can be a real pain, especially if you're someone who is travelling for just a few days, and have lots of beauty products or cosmetics. One traveller revealed how she gets around the guidelines, and carries full size bottles onto the plane.
Taking a large suitcase away with you can not only be costly, but it can also be time consuming.
For those travelling light with hand luggage that gets stowed in the cabin, the downside is the 100ml liquid restriction where all liquids must fit into one 20cm x 20cm plastic bag.
Holly Louise was flying to Turkey earlier this year, and decided to buy her beauty products at the airport.
Terminal shops however, can hike the prices up as they are providing flyers with last-minute products.
Instead of going into one of the shops, Holly decided to order her items online, and click and collect.
Holly placed an order two weeks before her trip, then picked her products up in the Boots located in Gatwick Airport, after going through security.
Not only did she avoid the 100ml liquid restrictions, but she also paid normal prices.
Sharing her top tip on TikTok, Holly said: "This is your sign to do a Boots order for collection at the airport so you can get over 100ml."
Holly ordered a full-size bottle of suncream, shampoo, conditioner, deodorant, after sun, body lotion, body spray and a hair mask for her trip.
Someone asked: "What's the difference between pre ordering and collecting or just buying from boots in the airport, is it cheaper?"
Holly answered: "Yes so there's obviously a lot more choice and it is cheaper I also got like more discounts and stuff online."
Some also questioned the volume of the products Holly had bought.
One asked: "But then how you bring it back with you?"
travel
She explained: "Me and my friends are gonna share everything so we will use most of it.
"And then will have to leave whatever is left, so just don't buy anything £££."
Doing this means you won't have to worry about bringing the liquids home and going through the 100ml liquid restrictions at airport security on the return.
Other travellers suggested buying products when they arrived at their destination.
But then you might not be able to get the particular brands you want, or they might be more expensive.
Liquids in hand luggage include the following:
Drinks
Partially or fully liquid foods (such as soup, baby food, honey, etc)
Toiletries and cosmetics (make-up, perfume, creams, lotions, gels, mascara, lip gloss, toothpaste, etc)
Sprays and aerosols (deodorant, hairspray, etc)
Gels (hair gel, shower gel, etc)
Contact lens solution
The 100ml limit applies not just to the actual amount of liquid, but also the bottles or containers they are held in.
Source: Read Full Article