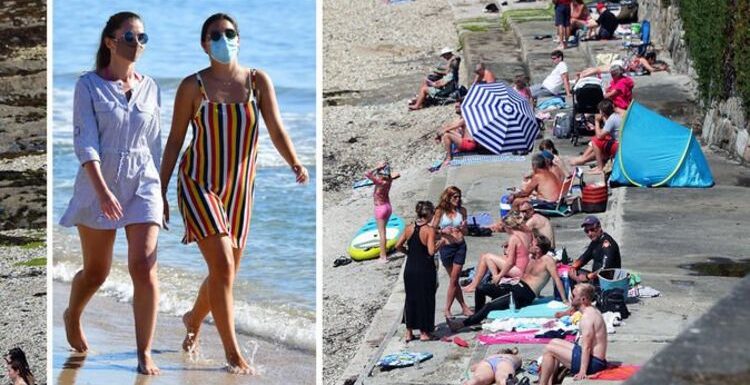 We use your sign-up to provide content in ways you've consented to and to improve our understanding of you. This may include adverts from us and 3rd parties based on our understanding. You can unsubscribe at any time. More info
Cornwall is one of many popular beach destinations for those looking to enjoy the sun this Easter weekend. Local councils, however, have been advising holidaymakers to wear face coverings or Covid masks, as well as suggesting to continue to social distance where possible as thousands of people gather by the sea.
Across the south of the UK, the sun has shone and temperatures have risen.
Over the next two days, the warm weather is set to continue.
As a result, thousands will travel to the coast to enjoy the sun, sea and sand.
But Cornwall's council has asked people to wear face coverings and exercise social distancing while visiting the southern seaside resort.
The official Facebook page for Cornwall Council uploaded a poster with advice on staying Covid-safe in Cornwall.
The caption read: "With Covid cases HIGH across Cornwall, we're asking everyone to take extra care this Easter and keep doing your bit to help stop the spread.
"Wash your hands. Wear a face-covering where you can. Keep your distance in crowded places."
They also urged anyone who was feeling unwell or had coronavirus symptoms to stay at home.
In another post, the caption read: "There's no place like home. It's the best place to be if you're feeling poorly.
"If you're unwell and you can stay at home, please do and help stop the spread of Covid-19."
Brian O'Neill, a public health consultant at Cornwall Council spoke about the tourists he has seen in the area.
He told BBC Breakfast: "I think people generally are still careful.
"People are giving space to each other… generally, the visitors that we're seeing down in Cornwall at the moment are being very respectful and using the facilities available.
"Our hospitality industry has worked incredibly hard to keep things safe."
The latest data shows there were 2,335 people who were confirmed positive for Covid across Cornwall and the Isles of Scilly between April 8 and April 14.
Cornwall is not the only coastal area that has suggested Covid-safety measures should be followed, the Lincolnshire coast has also given similar guidance about mask-wearing over the bank holiday weekend.
Craig Leyland, the head of East Lindsey District Council, which covers the resorts of Skegness and Mablethorpe, said visitors should wear a mask in crowded spaces and maintain regular hand-washing.
"We want to welcome people to our fantastic coast and Wolds, and all the other attractions we have, but we are just asking people to… make sure the virus isn't spread unnecessarily," he told BBC Look North.
Source: Read Full Article