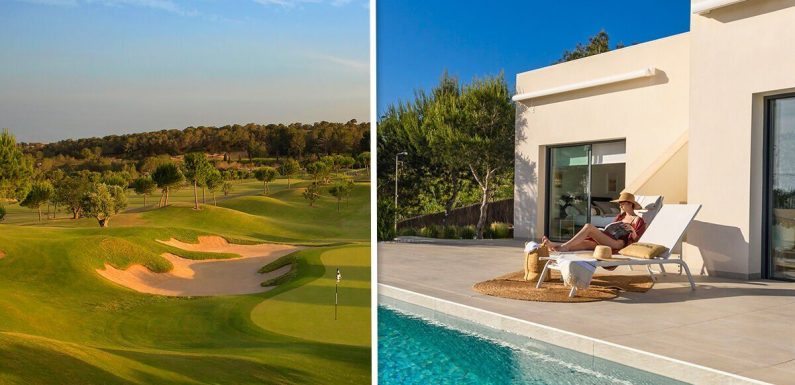 Alicante has an average of 348 hours of sun per month
We use your sign-up to provide content in ways you've consented to and to improve our understanding of you. This may include adverts from us and 3rd parties based on our understanding. You can unsubscribe at any time. More info
Touching down on April 27, the sky was overcast and grey – an unlucky turn of bad weather had descended upon the usually sunny and bright spot. Swiftly shown around the plush Club House, designed by Spanish designer Pepe Leal, I caught sight of the Il Palco restaurant and bar area I would be enjoying later. Driven to my accommodation to change for lunch (Las Colinas offers its guest a shuttle service via a mini van, if you have not already hired a car, which is recommended), I was taken around the large expanse of the ever-growing neighbourhood. The grand vision of Las Colinas is to have an exclusive community where people buy – and live in – the properties on site, whether it be a second home or their primary residence.
Depending on your spending power, properties can range from £1.3million for luxury villas that have their own pools, to more basic accommodation for those who have come for a short stay to soak up the (typical) Spanish sunshine and to play golf.
I stayed in a nice living quarter, which had its own small kitchen and maintained garden; down the road, it had a communal pool.
Back at the Club House, chef Fonsi Lillo and his team created delicious hors d'oeuvres and tasty shrimp paella served alongside a refreshing Spanish wine, Les Freses De Jesus Pobre 2019.
Whisked off to Wow Beach, a 20-minute drive from Las Colinas Club House, I had a couple of sangrias adorned with raspberries and edible flowers while looking out to sea; merely footsteps away from the white, sandy beach of La Glea.
1615043
If feeling the sand between your toes isn't your thing, on the decked area by the bar you can take a dip in the infinity pool that overlooks the ocean.
On a sunny day, Wow Beach would be even more incredible; surrounded by palm trees, the music playing, the infinity pool, sun loungers, and being served food and drink, it definitely is an additional luxury that Las Colinas can offer its guests.
As rain started to pour from the skies, I was comforted by the knowledge that chef Fonsi had been creating an incredible six-course menu back at the Club House.
In the stunning, geometric and vibrant Il Paco restaurant, overlooking lush green, I was served sautéed octopus with potatoes, pickled carrot capers and olives.
DON'T MISS
Flight attendant explains 'how to ask' for free upgrade – 'I'd give' '[REVEALED]
London holidays: A romantic Valentine's weekend in the city [REVIEW]
Easy suitcase packing hacks to fit more clothes [COMMENT]
Another sharing plate to choose from included smoked and bocconcini mozzarella with pesto served with cucumber, cherry tomato confit and balsamic cream dressing.
For starters, chef Fonsi made ravioli stuffed with burrata cheese, accompanied by tomato sauce and basil.
Cleansing the palate with sorbet, the option for the evening meal was rib-eye steak or baked Corvina fillet, which is considered a delicacy in Spain.
Choosing the latter for myself, I enjoyed it, but I couldn't help longing for the steak my dinner companion chose, which looked really good.
Dessert was a Neapolitan rum baba – a rather phallic-looking sponge cake – served alongside hot chocolate sauce.
And, as is tradition in Spain, the meal was finished off with an offering of coffee or tea (even if it was nearing 11pm at night).
The next day, on site, I got a tour of the facilities: a Sports and Health Club, which has a gym and massage parlour; a 5km scenic trail for walking or jogging; a tennis court; a mini market for your everyday essentials; and the golf shop.
Las Colinas, after all, is predominately catered for people who like to play golf.
The 18-hole golf course is well kept, with its undulating greens and numerous tees.
Winning Spain's Best Golf Course in 2021 – awarded by the World Golf Awards – the green can be enjoyed by groups and couples alike.
If visiting the nearby port city, Cartagena, a tour of the ancient Roman theatre is a must-see.
For more information on the golf course, accommodation, and what's on offer, visit lascolinasgolf.com.
Source: Read Full Article