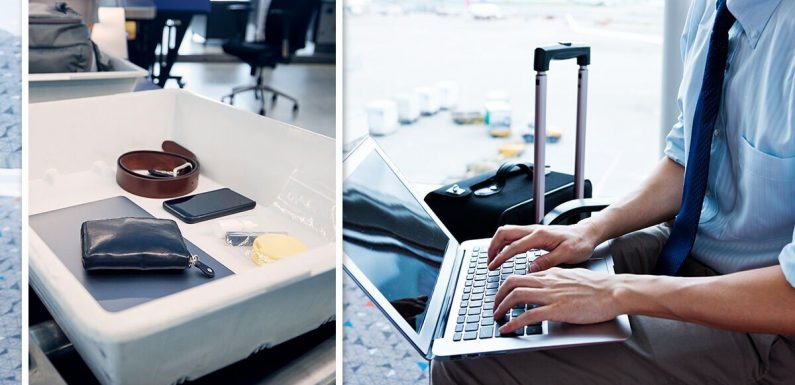 Travel chaos: Simon Calder says to only take hand luggage
We use your sign-up to provide content in ways you've consented to and to improve our understanding of you. This may include adverts from us and 3rd parties based on our understanding. You can unsubscribe at any time. More info
In a world of mobile phones and remote work, we are more reliant on technology than ever before, so it's no surprise most people travel with at least one form of electronic. However, if you are planning on packing these into your hand luggage, there are some strict security rules you will need to follow.
Key rules for travelling with electronics
You must ensure all electronic devices carried onboard in your hand luggage are fully charged, even if you don't intend on using them during transit.
Gov.uk explained: "Make sure your electronic devices are charged before you travel.
"If your device does not switch on when requested, you will not be allowed to take it onto the aircraft."
Laptops
With more and more companies embracing remote working, the ability to work from a far-flung destination might seem alluring.
However, if you are travelling with your laptop, you need to be aware of some key rules.
Natalie Deduck, an expert from travel blog Love and Road, explained: "Going through an airport with a laptop could be a bit annoying when not prepared for it."
One of the most important rules when passing through security is that you must remove your laptop from your luggage, as well as remove any case that it is in.
Your laptop, and any other electronic items, will have to go through the x-ray scanners separately.
In some cases, security may also ask to examine your laptop.
Experts from Sky Refund advise always packing laptops in your hand luggage rather than in your hold luggage.
They said: "Checking it with the rest of your luggage may lead to damage and in some cases, it could be lost."
Mobile phones
Mobile phones are permitted in hand luggage, but as previously stated, must have enough charge to be switched on if requested by security staff.
Though not all passengers are stopped and asked to "switch on" their devices, random spot checks may be carried out at some airport security points.
On its website, British Airways (BA) urges passengers not to let their mobile phone's battery deplete.
BA said: "You can generally take electric and electronic items in your hand or checked baggage, but need to follow specific safety instructions.
"Airport security staff may ask you to turn on electronic or battery-powered devices, such as phones, tablets, e-books and laptops, to demonstrate their function.
"If you're not able to do this, you will not be able to take your device with you."
Luckily, most airlines have plug sockets and USB ports onboard to allow passengers to charge their devices while travelling.
DON'T MISS
Expats: 'Most popular destination' for Britons hoping to live and work [INSIGHT]
'Dump him!' Woman's surprise holiday for boyfriend goes wrong [REVEALED]
Hand luggage rules: 5 everyday items which 'can't go through security' [COMMENT]
Cameras
Gov.uk explained: "You can usually take camera equipment in your hand and hold luggage."
However, there might be restrictions on specialist equipment, for example, professional video cameras.
This typically depends on the type of battery used within the time. Lithium batteries are described as "dangerous goods" by aviation authorities, though they are used in many everyday items.
The Civil Aviation Authority (CAA) explained: "Lithium metal batteries are generally non-rechargeable batteries that have lithium metal or lithium compounds as an anode.
"Lithium metal batteries are generally used to power devices such as watches, calculators and cameras."
The CAA added: "The permitted dangerous goods may only be carried when for personal use."
Source: Read Full Article