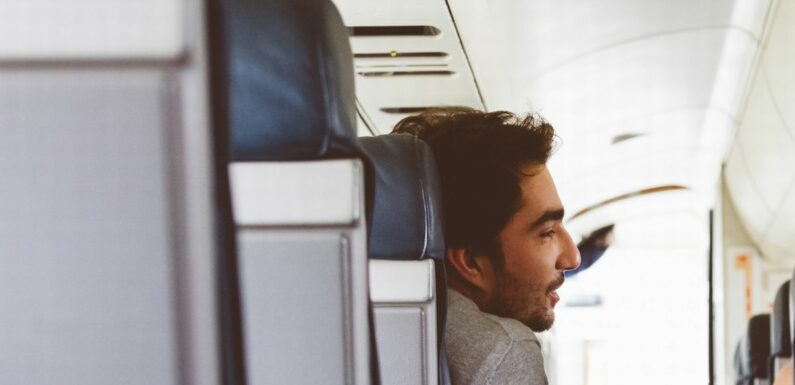 Reclining your plane seat is always a hotly debated topic, with some people slamming the move, others saying it's acceptable, and flight attendants warning that it could even be dangerous.
However, one man has been hailed as a 'hero' for getting sweet revenge on behalf of his wife, after she was victim of a seat recliner who seemed out to make her journey as difficult as possible.
Only, they didn't realise her husband was sat across the aisle.
He took to Reddit to explain the situation, and why he decided that petty revenge was the answer.
READ MORE: Woman urged to divorce husband for his 'appalling' behaviour on flights
He wrote: "We're frequent flyers and we know our way around planes, and we respect that people in front of us can and probably will recline their seats. It's really no problem."
However, the issue arose when the passenger in front of his wife was clearly setting out to be annoying.
He explained: "In front of my wife is some girl who is constantly reclining her seat, getting up, putting sit up. Basically in 10 minutes she did all that is possible with her seat.
"In one moment I noticed that girl in front of her is smiling and communicating with her husband, and pointing at my wife. Like she's doing it intentionally. They don't know she's my wife and I'm watching my movie and acting cool."
When the plane landed, he decided to take action – and make the passengers' journey as annoying as possible.
He wrote: "I stood up first, and blocked guy from grabbing his bags. I'm pretty big guy, and this dude is for one head smaller than me. I'm standing there acting cool, not giving him any space to pass me and grab bags. Other people are grabbing their luggage, people are ready to leave plane."
He even stood his ground as other passengers left the plane, letting his wife go first. "They left plane last… And that dude was furious," he said.
In response, Reddit users were quick to congratulate the 'hero'.
One wrote: "Don't blame you..some people have no manners or respect for others..irritates me."
A second wrote: "Imagine power tripping over sitting in front of someone."
Another person added: "Good for you to extract revenge on behalf of your wife."
Meanwhile, someone replied: "Well done Big Guy (I love how you described yourself, LOL)! I hate when people act like children on a plane. It is as if though they've never been anywhere. They deserved your bit of satisfactory retribution! Kudos!"
How do you deal with annoying passengers? Email us at [email protected].
READ NEXT:
'I travelled to three countries for less than £50 – here's how you can too'

Huge 'flying hotel' has three decks, room for 800 passengers and viewing lounge at nose

'People mum-shamed me because I said I ditched my son in economy on a flight'

Hidden holiday spot named 'Disneyland for men' boasts 10k sex workers as Brits let loose
Source: Read Full Article