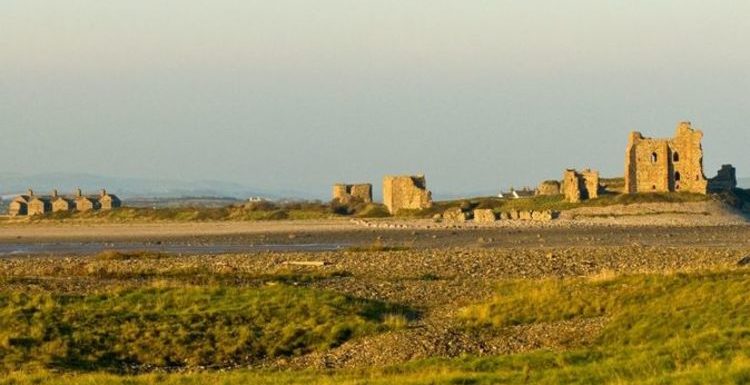 Balearic Islands a 'safe destination' for UK tourists says expert
We use your sign-up to provide content in ways you've consented to and to improve our understanding of you. This may include adverts from us and 3rd parties based on our understanding. You can unsubscribe at any time. More info
Piel Island lies half a mile from the top of the Furness Peninsula, which can be accessed by mainlanders via ferry boat during the summer weekends. Visitors who venture to the tiny island can check out 14th century Piel Castle, which is made up from rocks from the coast and is free to guests thanks to English Heritage.
Just three households who live in cottages call this isolated location home full-time but holiday goers can enjoy the great outdoors by camping.
For just £5 per tent per night, this bargain holiday deal will provide campers unspoilt views of the surrounding seal colonies nearby.
Piel Island was gifted to the people of nearby Barrow as a memorial to those who lost their lives in the First World War, and locals say the pub is the lifeblood to attracting people to the area.
Piel Island Pub Co are offering a unique camping experience to visitors for as little as £5 per tent per night.
To quench your thirst, head to the historic pub the Ship Inn, that's been serving punters for over 300 years.
Make sure to look out for the current landlord, who holds the title of 'King of Piel Island' originating from Lambert Simnel who attempted to take over the English throne.
Reopening under new management for the first time since 2019 earlier this month, Ship Inn serves a range of local ales, spirits and pub grub.
The infamous waterhole almost permanently closed until the Piel Island Pub Co stepped in to take on the iconic venue.
Kirsty Ridge, a director of Piel Island Pub Co and the managing director of Cumbrian pub chain Lakeland Inns, said: "This project is certainly different compared to my other pubs, but it has been really exciting and a challenge we have all enjoyed.
"There's been obstacles we have had to clear and there's been a lot of hard work behind the scenes, but it's all been made worthwhile when you see the reaction from locals and visitors who appreciate what we have done.
"The support from the public has been amazing and we've been really busy, and we're grateful for such backing.
"The pub is a vital part of this unique and wonderful island, and we're privileged to have played our role in getting it back up and running, much to the delight of our customers."
If you would like to check out Piel Island, ferries operate from April to September each day between 11am and 4.30pm at £5 return per adult, £3 for children, and under 5s travel free.
DON'T MISS:
Joe Biden snubs Boris and EU as US won't budge on strict travel rule [REPORT]
Keir Starmer blasted over failure to stick to own strategy [VIDEO]
Prettiest towns and villages in the UK named [REVEAL]
Source: Read Full Article